Electronic Arts produced Origin, it is a digital distribution site for buying and playing video games. The app client for the platform is available for both personal computers and mobile devices. This platform is used by thousands of players around the world; however, it still contains some errors and bugs. One of them is 'error code 14-7'. If you facing this error too and want to fix it, we have it all covered in the blog.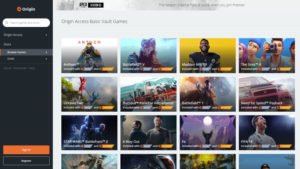 Origin: Service
Users can browse and buy games from Electronic Arts' catalogs through the Origin store. Rather than receiving a box, disc, or even a CD key, the user's purchased software is connected to their Origin account and can be accessed using the required Origin client.
Users may also use CD keys from retail copies and digital copies acquired from other digital distribution providers to connect some EA games to their Origin accounts. Retail keys can only be added to Origin for games released after 2009, and older keys will not function even though the game is available on Origin unless the user contacts customer service.
What is the error code 14-7 in Origin?
There are a number of errors in Origin that are very stressful for users. When the file needed by the client is corrupted, or there is an application running that prevents the client to connect to EA servers, Error Code 14-7 pops up on the screen. This is considered to be a network issue from the user's side of the servers of Origin might be down.
How to fix the error code 14-7 in Origin?
Origin does not have a patch update for this error; however, we have some solutions which might help you resolve the error from your end.
Method 1 Run the Programme as Administrator
Running the Origin installation, program as an admin in your system can fix the error. Here is how you can do it:
If you haven't installed Origin yet, please try to run the Origin installation program as Admin.

Right-click the Origin Installation file and then select the Run as administrator option.

Check to see, if you are allowed to install the application immediately.
Method 2 Use VPN
If the issue persists, download and install any free VPN client like Hotspot.
After that, connect to VPN and try to run the installation program once more.

Then, try to run the installation program once more and check if the error has been resolved.
Method 3 Disable your Anti-Virus Software
If you are using any antivirus software within the system, disable the software
Select the Disable/Exit option from the function list, which will show up after right-clicking the Antivirus icon in the taskbar.

Then run the installation program again and check whether the original error code 14-7 still appears.
These methods should have helped you fix the error code 14-7 in Origin.