Note: New Updates are being added at the bottom.
---
Original Post(March 18): Chinese OEM Oppo manufactures some of the most amazing and value for money devices in the smartphone industry. Along with some amazing flagships, Oppo also offers a lot of mid-range and budget centric devices as well. Oppo phones offer a very good amount of value for money along with very powerful specs and come with beautiful design. Indian users love using Oppo smartphones and that's the reason Oppo devices are extremely famous in India. The Oppo R17 is one of a kind device with some awesome specs and features. The device was launched back in November 2018.
Oppo R17 Pro users are waiting for Android 10 to hit their devices. Some of them took to twitter asking about the possible dates for the Android 10 update. Here is what a user wrote on Twitter:

The R17 Pro features a huge 6.4 inch 1080p AMOLED display. The device houses the Qualcomm SDM710 Snapdragon 710 chipset and offers up to 8 GB RAM and 128 GB of storage. The phone runs on Android 8 Oreo out of the box. It later got updated to Android 9 Pie with ColorOS 6.
Jumping on to the Camera, it has got a triple-camera setup with a 12 MP sensor being the primary camera, a 20 MP sensor and another sensor for depth sensing. Moving up to the front, we get a single 25 MP camera for capturing selfies. The device is powered by a 3700 mAh battery with 50W SuperVOOC Fast Charging. The smartphone comes with all the major sensors and sports an In-Display fingerprint scanner.
Oppo R17 Pro Specifications :
Display
6.4 inches AMOLED screen
Processor
Qualcomm SDM710 Snapdragon 710 (10 nm)
RAM
up to 8 GB
Internal Storage
up to 128 GB
Front Camera
25 MP, f/2.0, 1/2.8″, 0.9µm
Rear Camera
12 MP, f/1.5-2.4, 26mm (wide), 1/2.55″, 1.4µm, Dual Pixel PDAF, OIS
20 MP, f/2.6, AF
TOF 3D, (depth)
Software
Android 8 Oreo out of the box
Battery
3700 mAh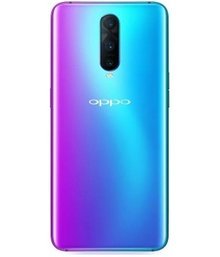 Oppo R17 Pro Android 10 Update:
Brace yourselves up if you own a Oppo R17 Pro because today we bring with us the most anticipated news for all you guys out there. Well, R17 Pro users have been recently speculating a lot about the Android 10 update for their devices. While some of the Samsung smartphones have already received the Android 10 update with the ColorOS 7, users of the R17 Users have been desperately looking over the internet for the possible dates for the Android 10 update. So here you go Oppo R17 Pro users, the wait is finally over. Good News awaits you!
Oppo has officially announced on their Twitter handle, that the Oppo R17 Pro is going to receive the ColorOS 7 update based on Android 10 starting from today. Cheers Folks! However, this is the first batch of the trial version update and only 2000 quotas are available. So, hurry up! Get your device registered soon and download the update. Cheers Peeps! You can check out the official Twitter Post below: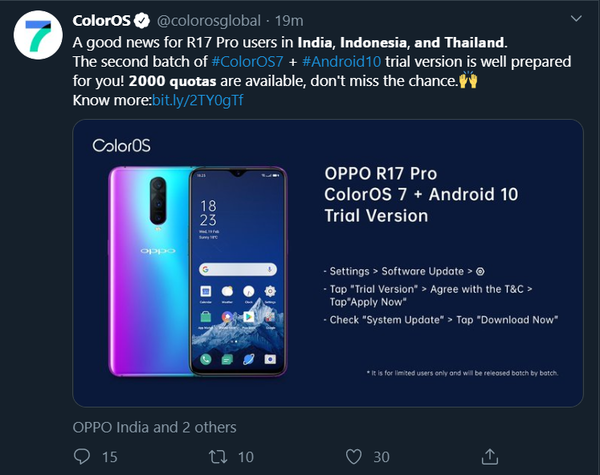 Stay tuned for more updates on further developments on Oppo R17 Pro Android Q update. Share this article to all those who have been waiting for the update.
UPDATE : April 20
Stable version of Android 10 (ColorOS 7) is now rolling out.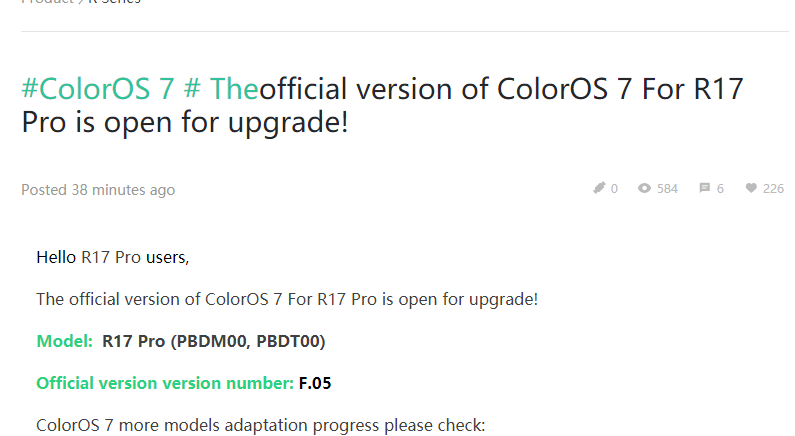 Update log:
"Visual"
· New borderless design, new upgrade, more shocking visual, more efficient operation, more natural experience
· Added OPPO Sans default font, overall concise and elegant, full of technological beauty
"Breeno"
· Added Breeno instructions, allowing you to complete daily tasks faster with fewer steps, and create personalized shortcut instructions
· Add Breeno voice, photo search function, voice search based on photo time, location, people, etc.
· Added Breeno voice, camera wake-up, voice switchable camera mode
· Added Breeno voice, open and close dark mode, query steps, open Breeno screen and other voice commands
· New Breeno suggestion, low battery reminder, automatically detect nearby charging treasure merchants when low battery
· Add Breeno sleep mode, enter dark mode at night, and turn on do not disturb
· New Breeno screen, meeting schedule information recognition, can add schedule with one click
· Optimized Breeno scan, independent code scanning and object recognition, easy to evoke
· New Breeno driving, can quickly open the phone, music, WeChat and a recently used application
· New Breeno quick view, news information module
"Smart Sidebar"
· Optimize visual interaction and enhance one-handed operation experience
· Optimized the smart sidebar, replaced the file desk with file management, and removed three quick tools: Breeno voice, super clear visual effects, and notifications
· New shortcut tool for notes
· Added support for drag and drop applications to achieve fast split screen
· Added "buoy transparency" and "buoy full screen hide" setting items
· Optimize the range of floating window mode, more applications support the opening of floating window
· Added floating window bubble function, support rapid expansion / folding floating window
"Screenshot"
· Optimize the three-finger screenshot, long press and slide with three fingers to select the screenshot area;
· New screenshot setting, you can adjust the position of preview floating window, set prompt sound, etc.
· Optimize screenshot preview floating window, pull down to share, pull up floating window for long screenshot
"Navigation Gesture 3.0"
· Added swipe inward from both sides of the screen and stay to switch to the previous application
· Optimize all gestures to support landscape scenes
"System"
· Added flashback button, support desktop display of important information of navigation, taxi, game, one key to quickly return to the application
· Add dark color mode, power saving and eye protection
· Added focus mode to help shield the outside world from interruptions when working or studying
· Added new charging animation style
· Optimized control center interaction, more friendly one-handed operation experience
· Added screen recording pause function
· Added screen recording floating window and recording settings
· Added 360 cleanup engine
· Added global theme, the theme adds more playability
· Added global delete sound effect, calculator button sound, compass pointing sound feedback
· Optimize the built-in ringtone resources
· Added barrier-free TalkBack suspension prompt
· Add barrier-free color mode to improve the experience of visually impaired users
· Added the latest task management page, including memory information switch and application lock management for recent task display
"Game"
· Optimize visual interaction in game space
· Optimize the startup animation of the game space
· Optimize the interaction and outgoing mode of game assistants, and add game console connection entrance
"Desktop"
· Added new interactive live wallpaper
· Add Art + Static Wallpaper
· Add a new desktop sliding setting item, you can customize to open the global search or notification center
· New desktop icon customization, you can customize the icon size, shape, style
· Optimize the unlocking process, switch to unlock mode
· Optimized password unlock visual, more convenient to unlock with one hand
· Added lock screen support for live wallpapers
· Optimize the style of the breath screen clock, more personalized choices
· New desktop simple mode, larger font icons, more concise and clear
"Safety"
· Add password book function, automatically fill in the password, realize one-key login
· Added the use time of the remote guard application, you can view the application status of the bound mobile phone in the past 7 days
· New remote guardian deactivation period, you can set the deactivation period of the bound mobile phone
· Add a new remote guard application to set a time limit, you can set the duration of binding mobile application, limit the number of games in some games
· Added one-key navigation of remote guard, one-key navigation to the location of the bound mobile phone
· Added SOS emergency contact smart customer service for help. When the emergency contact does not answer the call, the smart customer service will help continue to call the emergency contact
· Add a random MAC address to connect to WiFi, block targeted advertising, protect privacy, and make information more secure
· Added icon prompt in the status bar when using sensitive permissions, you can view the details of the specific called application, to prevent personal privacy disclosure
· Add permission usage record, you can view the history of application calling permissions
"Tool"
· Added the palace mode for sticky notes
· Newly added background settings for notes, providing 6 colors and 4 skin backgrounds
· New reminder function for note time, can set reminder time for memo items
· Added the function of deleting and retrieving sticky notes. The deleted sticky notes will be kept in the recently deleted folder for 30 days.
· Add calculator small window mode, support quick start through control center and smart sidebar
· New recording cutting function, which can cut the existing recording to obtain important clips
· Newly added calendar supports custom setting schedule repetition period
· Added alarm clock dynamic weather ringtone, matching different ringtones according to the weather of the day
· New weather animation effect, showing different motion effects according to different weather
· New file management Add OPPO cloud disk entry, can access OPPO cloud content
"Camera"
· Optimize camera interaction and enhance operating experience
· Optimized photo countdown interaction and prompt sound
"Album"
· Optimize the interaction of album atlas, the level is clearer, and it is more convenient to find pictures
· New album recommendation, support more than 80 types of scene recognition
"Communication"
· Added OPPO intercommunication to support intercommunication with vivo and Xiaomi devices
· Optimize the phone book vision to bring a more concise and efficient experience
· Add a quick setting page for unfamiliar number calls, add a contact with one key, add a mark or join a blacklist
"Settings"
· Add a deactivation period, customize the deactivation period, effectively manage the time of mobile phone use
· New application setting time limit, you can set the duration of the application, limit the number of games in some games, to prevent apps and games from addiction
· Optimized setting search function, support fuzzy search and search record display
"Application"
· Add Soloop to record, understand your video intelligent creation tool
· Add health, monitor sports health data, provide health services