The latest chapter 986 of the manga 'ONE PIECE' just dropped and it's a lot to unpack. We will be discussing 'ONE PIECE' chapter 987 release date and spoilers. If you want to avoid spoilers, you can simply check the release dates below for the next chapter.
ONE PIECE CHAPTER 987 SPOILERS –
So the chapter opens up with Pound being left out, Chiffon and Lola run away from him and Marines. Oda flipped the expected happy ending of the Bege's family cover series 180. O-Kiku and other Scabbards are crying after they defeated Kanjuro because they all remember the happy moment with Kanjuro, Denjiro, and Kinemon arrive. So this proves that the rebellion has at least control over the perimeters of the muffin mountain. Fukurokujo and other Orochi's samurai pledge allegiance to Kaido after Kaido sliced off Orochi's head.
Kaido asks Momo 'what is your name', and tells him that if it is anything other than Kozuki, he will free him. Well, Momo could have just lied here to save himself but he yelled him name 'Momonosuke Kozuki' to Kaido. Everyone seems pretty surprised by this. And just when Kaido picks up his Kanabo to kill Momo, an explosion occurs. It was caused due to the collar of Yamato explodes when Luffy threw them off, and Yamato is pissed, he is angry on Kaido for putting actual explosive on his cuffs.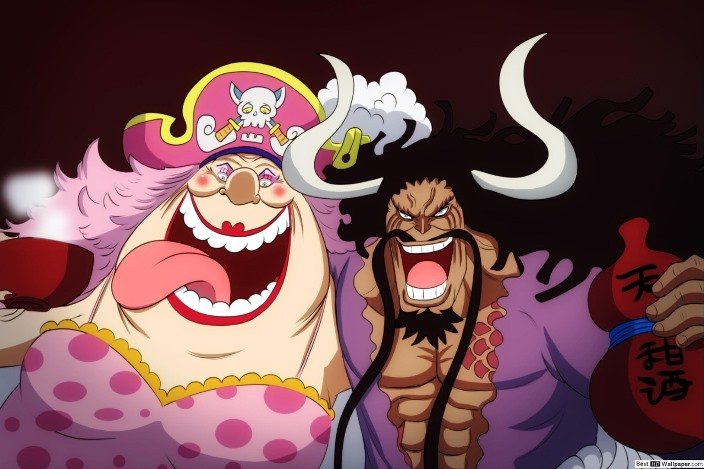 Before Kaido could do anything, all the Scabbards arrive near the balcony. The calamities are surprised but ready to fight. Izo shoots at King before he could take out his sword, Neko knocks out Kaido's Kanabo and Scabbards charge over Kaido screaming 'Sunachi'. Kaido is confident that their sword can't do sh*t to him, but Kinemon and Denjiro's sword are the only two who can any deal damage to him.
Kaido is pushed against the balcony, he may fall or land where Bigmom is, or he may transform to his dragon form for flying. Glad to know Scabbard got the first hit on Kaido, they deserved it. Beast pirates instantly understand this is an all-out war, time to stop drinking, and be ready to fight. Many others will soon be joining them. The Minks are there to get revenge against Jack. Perfect moment for Nami and Carrot to escape in this chaos. Zoro, Law, and Kid is having their share of fun wiping out the Gifters and others and will soon be joining the main battle. We see King using a sword so Zoro may fight King. Recently Oda's editor said he cried the last chapter may referring to chapter 987. Its gonna be something epic and emotional. Stay tuned. Also, good news there's no breaks next week.
ONE PIECE CHAPTER 987 RELEASE DATE –
The latest chapter released on the 2nd of August 2020. And since there will be no break next week, the next chapter will release on the 10th of August 2020 on the official sources like Viz.com.
Regularly visit our website to keep track of updates and schedules regarding the manga. We will update you if any changes take place.
Also, we, here at DigiStatement, do not support any kind of illegal sources. We encourage you to read the chapters from official sources only if possible.
WHERE TO READ ONE PIECE CHAPTER 987 –
You can read the latest chapter of One Piece online as soon as they are released on VIZ media and Shueisha's manga plus official websites and Apps. Note that the raw scans for new chapters are usually released 2-3 days in advance. So make sure you read your manga from the official websites as this will help the manga creators.