Early scans of One Piece chapter 960 are out online. The chapter showed the initial phase of Kozuki Oden and how he was disowned because of his troublesome actions. In this post, we will discuss One Piece 961 spoilers & predictions made by the community. Before that, let's see in brief what was Wano in the presence of Kozuki Oden.
One Piece 960 Summary
With Bege on the cover page finding his wife and daughter, the chapter starts with a beautiful see sight of Wano without any factory, just covered in the beauty of sparkling water and flourishing fauna.
The chapter shows Tsuru from 39 years back as a poster girl for a mountain tee house where she feeds three men (Bingo, Bongo and Bungo) who capture a snow-white boar for claiming the money after selling it. Amid the conversation, young Kin'emon tries to steal money from her wallet but she knocks him down and warns him to pay her debt he has. At the time Kin'emon was a Yakuza thug who used to steal people's money and precious belonging and the same he does with the three men after leaving from the tree house.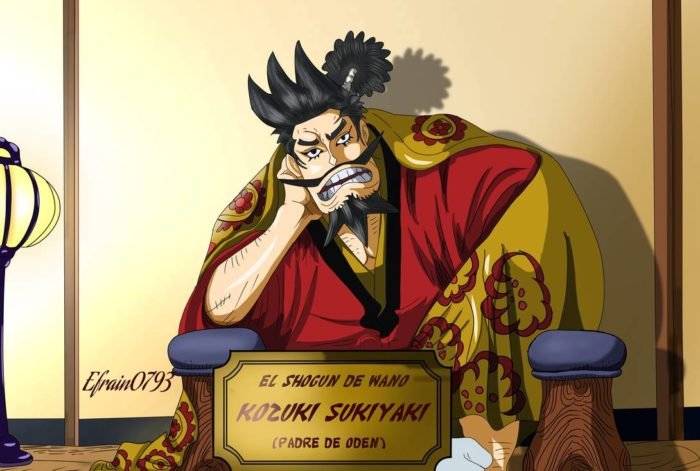 Then, the chapter shows the shogun of Wano, Kozuki Sukiyaki who seems very angry because of his son, Kozuki Oden's troublesome actions. His advisor tells him the troublesome events caused by Oden. He tells how Oden was able to toss his nurse across the room and how he was able to catch two rabbits at the same time and many other events till his current age,18. He also tells shogun that Oden has tried 18 times to leave the country. After hearing a long list of his son's doing shogun tells the advisor to hand over a message with a word disowned written over it to the Oden.
In the town, Hyuogoro tells men in pursue of Kine'mon to avoid going one-vs-one against him. On the other hand, Denjiro is shown selling a small pot in 60 silver pieces by tricking the owner. In the flower capital, a girl starts to cry because Kozuki Oden uses fire from his father's ashes to boil oden at Crematorium. After eating he starts to left the place but he hears the nonstop ringing of fire bell. The chapter ends with a big fire spreading across the town.
One Piece Chapter 961 spoilers, predictions
Since most of chapter 960 was about the introduction of Oden, his father, Kin'emon, Hyuogoro, Denjiro and O-Tsuru, the next chapter will focus on Oden and how he responds to the fire incident of the town.
[Update]: In One Piece chapter 960, Denjiuro talks about a legend of boar the size of a mountain, which is same thing Bingou gang was talking about. O-Tsuru claims it to be a mountain god. As Bingou gang caught his baby, he might go on rampage all the way to the capital causing a fire. In chapter 961, we might see Oden fighting against the mountain god which will show how strong Oden is.  We already know that Kin'emon is one of the retainers of Oden. After seeing the Oden defeating the giant boar, he might bow down to him.
We will also see Oden banished from the capital as a result of his father's order. As we know Oden became a daimyo at the age of 20. This means that in the span of 2 years, Oden has both defeated Ashura Doji and conquered Kuri. So, in chapter 961 the next chunk of the flashback of Oden will focus on Oden fulfilling his wish to set out of the sea by first becoming a competent samurai. The flashback will show how Oden Kuri, Wano's most lawless region and defeated most dangerous criminal Ashura Doji to bring peace and set a foundation of Paradise farm.
One Piece will be out early on Friday, November 1, 2019.