One Piece chapter 959 was released on Monday. It was another intriguing chapter in the Wano Arc, which highlighted the status of Straw Hats and Beast Pirates before the happening of port Tokage incident.
We saw what Orochi did to crumble the alliance's plan . He had information on the Alliance's plan of attacking the Onigashima. Before the commencement of the plan, he destroyed hideout of Sunny along with all ships and linking bridges. On the other hand, Straw Hats and other men were preparing for the war.
It was not shown whether Straw Hats and other 4000+ army were near the ships at the time of bombing or not, but they were not able to reach the port Tokage. After feeling lonely again, nine scabbards decided to carry out the plan. The chapter ended with the silhouette of Kozuki Oden from 39 years ago.
One Piece Chapter 960 spoilers prediction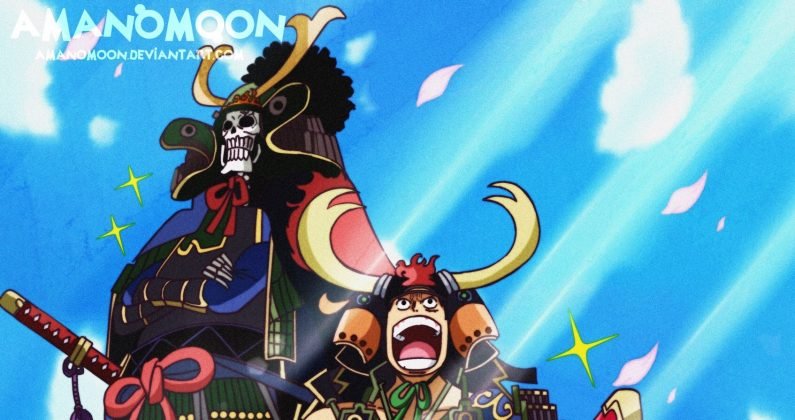 According to the discussion on the Reddit, it looks like we won't get to see the outcome of port Tokage incident in no time as the next chapter will begin the adventure of Kozuki Oden's journey.
Most probably next 5-6 chapters will follow Kozuki Oden's past, what type of person he was, why people respect him so much??. We will also get to see how he met Whitebeard and went to Raftel with Roger. So, we can expect the brief appearance of Whitebeard and Roger after a long time in the Manga.
The chapter confirms that One Piece 960 is not on break and it is releasing on Sunday, October 27, 2019. As for the scans, they will be out two days before the official release, i.e. on Friday. Till then check out some interesting theories penned by the community.
The flashback continues

-Oden fights with his dad and he loses. His dad seems unhappy with what he is doing,but then he reveals to one of his men that he is confident that Oden will become a great man one day.

-Oden has finally his chance to leave Wano when he meets Whitebeard. He joins his crew and start his adventure. Whitebeard just left the Rocks,and he is just starting to form his own crew.

-Travelling trough the sea Oden meets Toki. He immediately understand that Toki is 'different' in some way (because she comes from the past) and the two of them fall in love.

-One day,Oden and Whitebeard meet…Roger! What does he has to say to them?

End of the chapter.
At this point it's clear we are going to get Oden flashback (and it will be at least 4 chapters ) his youth, his relation with Orochi, kinemon and the rest of the gang. We will see how he finally set sail with WB and eventually Roger…. there is a slight chance we will see his fight with Kaido at the end (his death basically ). But i doubt it will be revealed why Wano (the Kozuki) closed it's border (the explanation of what we were given at the end of the last chapter) i think Oda will leave it for the end of the arc……

Well i wish we get to see more of what happened to the SH, the solution that they took, and more important Jinbei will he join them in time, but i doubt we will see more of this for the next 4~5 chapters.
A flash back about Oden's past showing him being ridiculed for wanting to open Wano's borders and the chapter will end with a panel or 2 of Oden's childhood which will lead into chapter 961. But I hope it's the alliance going to Onigashima or doing something important instead.
Full on Oden flashback. We see his life story, birth to death. Outlaw, gathering the scabbards, commander on WB's ship, with Roger to Raftel, epic battle vs Kaido.

Hell, we might even see his face.
Source: Reddit