If you want a light driving simulator on your mobile device with a lot of in-depth customization, plenty of trucks, and realistic suspension response, Offroad Outlaws is the game you should definitely try once. The game offers plenty of content and allows players to fully explore its vast in-game world. You can customize your trucks according to your liking, explore the huge open-world areas in first person or third person view, well-optimized touch screen controls, and multiplayer elements make it a gem in its own way.
If you've spent a few hours in the game, you probably don't know how to attach & use a trailer to drive around the open-world area. In this article, we'll be talking about the game and how you can attach and use trailers in Offroad Outlaws.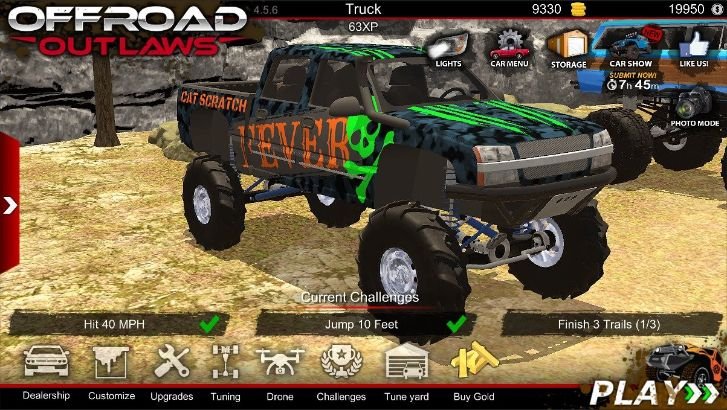 About Offroad Outlaws.
Offroad Outlaw is more of a light driving simulator where you can drive all kinds of trucks, bikes, and cars in its open huge world. To add more depth to the gameplay, it features in-depth customization, where you can modify every aspect of your vehicle. You can tune the engine, customize body kits, gears, suspension system, aerodynamics, and more. Once you drive your customized vehicle, you'll notice the impact it has on the performance of your vehicle.
In the game's world, you'll encounter different types of terrain that include rocky routes to flat sands. If you're tired of regular driving and feeling confident, you can play with your friends online in various game modes like capture the flag and hone your skills.
How to attach and use trailers in the game?
Well, in Offroad Outlaws, players aren't allowed to randomly attach trailers to any other vehicle present in the game. However, if you want to tow someone using a trailer, you can do so in the game after they give you the permission. To attach and use trailers in the game, go to the in-game menu and select your preferred trailer. Now,  select the "Equip this trailer" option. You can also load a car on your trailer by selecting it and choosing the "load car on the trailer" option.
Once the car is loaded onto a trailer, select a car you wish to drive, select the map, and select whether you want to play the single-player or multiplayer mode. After the game loads, the trailer will be attached to your truck and you can drive around anywhere carrying the car that has been loaded on the trailer.
We hope that you enjoyed reading this article, stay tuned for more updates about Offroad Outlaw and other news at Digistatement.