Before you make any decision that starts off the journey for your hero like picking a faction or choosing a nation, you need to understand the skills and how they pan out throughout the game. Knowing and understanding the skill makes it much easier to choose the path that you wanna take in the game.
Here is a comprehensive guide to understanding the skill tree.
Skills
There are 6 basic and 18 additional skills in the game. Pumping basic skills affects the speed of obtaining additional ones. Each A core skill point adds 10 points to the limit and learning speed. Additional skills have:
Perks: can be taken upon reaching a skill level)
Learning Limit: Increases focus and increase basic skills. After reaching the limit, the learning speed will begin to decline
Focus: added when selected during character creation. Increase speed and training limit
Learning Speed ​: Composed of focus, basic skill level, and basic learning ability
Basic skills, additional skills, and the impact of skill improvement.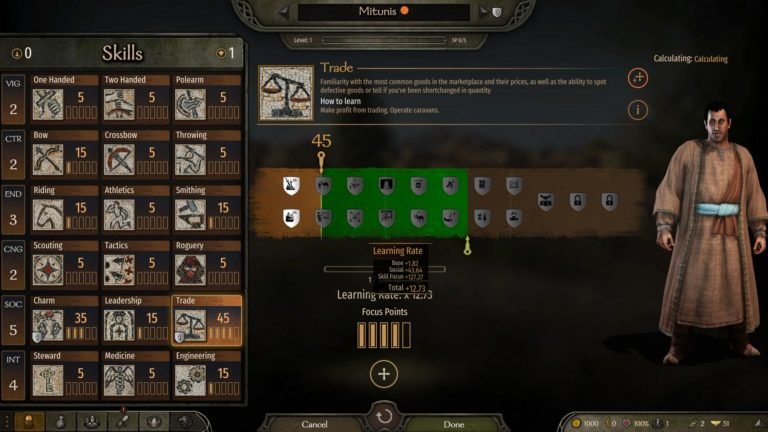 1. Strength (Vigor)
Increases the speed and strength of melee weapons
One-handed weapons (weapon speed and weapon damage increase)
Two-handed weapons (weapon speed and weapon damage increase)
Polearms (weapon speed and weapon damage increase)
2. Agility ( Control )
Increases the strength and accuracy of ranged weapons
Bow (improves damage and accuracy of the weapon, and also increases the quality of the weapon that you can take)
Crossbow (increases accuracy and reload speed)
Throwing weapons (increases speed, damage, and accuracy of weapons)
3. Endurance ( Endurance )
Reduces fatigue, and increases the amount of stamina
Riding (improves the quality of the horse, which can be saddled, increases the speed and manoeuvrability of the horse).
Athletics (running speed increases)
Blacksmithing (increases the quality of forged weapons)
4. The trick ( Cunning )
Helps you unravel the plans of enemies, outsmart them
Reconnaissance (the radius, quality, and amount of information in the visible environment increases. The chance of being ambushed decreases)
Tactics (Increase the number of soldiers on the battlefield, and reduce the number of losses)
Theft (increases the amount of loot after the battle)
5. Charisma ( Social )
Improves mutual understanding with people
Charm (improves the attitude of others)
Leadership (increases the morale of your people, and the number of people in the garrison)
Trade (reduces the penalty on trade)
6. Intelligence ( Intelligence )
Increases the number of books read
Management (increases the number of people you can take on a hike)
Medicine (increases the quality of treatment, and the chance to survive an injury increases)
Engineering(siege machines are built faster, and their quality increases)
If you have at any time figured out what skill build to go, the game gets easier and you can focus on other things. Have fun and we will keep you updated.