Motorola continues to be one of the few budget smartphone makers that ships its phones with a clean build of Android. The only extra software they usually include on top of the vanilla Android experience is their handy Motorola Gestures.
Launched in October 2019, with an IPS LCD screen spanning 6.2 inches the Motorola G8 Play was certainly an attractive option for those who wanted to experience stock Android at that price point. Powered by an octa-core MediaTek 6671 Helio P70M and 2GB of RAM, the phone was good enough for handling day-to-day tasks like web browsing and social media.
But the phone launched with Android 9.0 Pie. Now given that Motorola runs nearly stock Android on its smartphones, one would reasonably expect them to update their devices very quickly. But historically that has never been true. Motorola users usually have had to wait for much longer to get the latest version of Android on their phones.
But Motorola G8 play users have reasons to be excited because we just got official confirmation that the device will be receiving Android 10. Answering a curious user on Twitter, Motorola's official Brazil handle revealed that while there was no confirmed date, G8 Play devices would be getting the Android 10 update soon.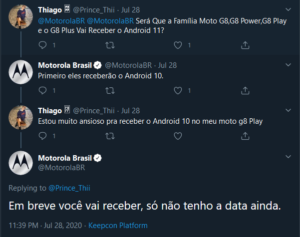 Soon you will receive, I just don't have the date yet.
With the Android 10 update, users can expect several under the hood improvements and visual changes. One of the biggest changes they'll notice is Android 10's gesture navigation. It is similar to iOS's implementation, with a navigation 'pill' at the bottom of the screen. To go back users now need to swipe anywhere from the edge of the screen. You can, of course, choose to revert to the classic three-button combination.
We hope that Motorola continues to bring Android 10 to the rest of their G8 line-up.