Announced a few days ago by the Activision and Infinity Ward teams, this Tuesday, April 28 update brings its share of corrections and new features for Call of Duty: Modern Warfare and its free-to-play Battle Royale Call of Duty: Warzone. All information about her right away. 
Like every week, Infinity Ward returns with an update for its hit game, Call of Duty: Modern Warfare. Additions or corrections that also apply to its Battle Royale, available free since the end of March, Call of Duty: Warzone. And for this last week of April, they put the small dishes in the big ones and concocted a whole program in order to satisfy a maximum of the players. Obviously, this new update brings its share of corrections.
Regarding additions and new features, the program is quite busy. For starters, players will be able to discover a brand new contract in Call of Duty: Warzone. Entitled Most Wanted, it will allow players to become a target price to collect a reward worthy of the risk. We detail how it works, its objectives and its rewards in our dedicated guide.
Drawing heavily on the community and paying close attention to feedback, the developers at Infinity Ward decided to please players by adding a much-requested feature. Thanks to the update for this Tuesday, April 28, it is possible to mix all types of weapon accessories with favourite patterns. Before, everything was blocked by specific layouts. As a result, players will be able to create more and perfect the look of their favourite weapons. Two new bundles will also be available, the details of which are as follows :
Pyromaniac

Legendary skin for Kruger "Firestarter"
Caldera legendary scheme
New staging
Flaming throwing knife
Fire Claw III

SMG legendary scheme "By the Toe"
New spray named "Crown-themed"
New keychain titled "Tiger-themed"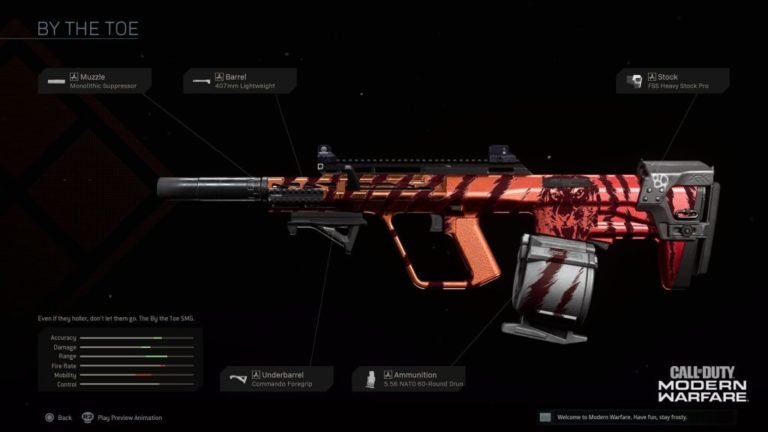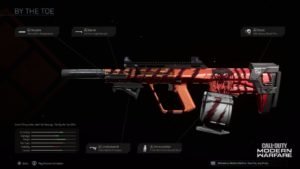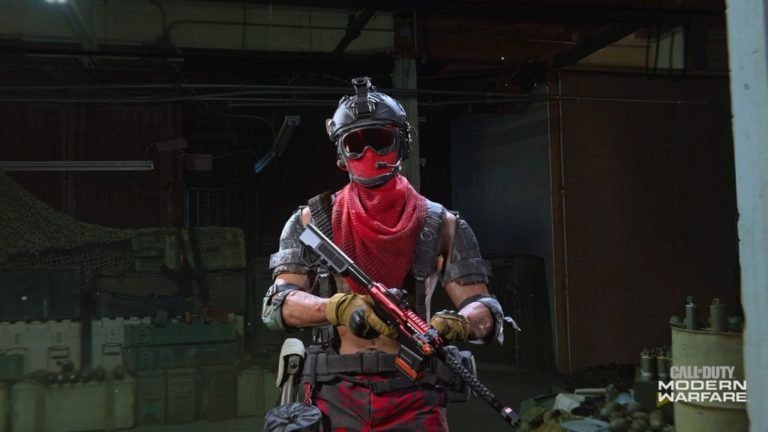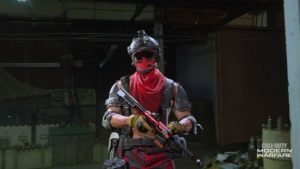 And if we are talking about cosmetics, it is also worth returning to the arsenal of weapons of the game which is enhanced by a new entry. The new weapon is the MK9 Bruen (image below). It is an LMG with high precision and "reliable damage". Like all other weapons of this kind, it should have a fairly large magazine but we do not yet know its statistics regarding its cadence and its recoil.
The developers do not stop there and take the opportunity to announce the return of Shoot the Ship mode in Call of Duty: Modern Warfare. A double XP event (rank, weapons, a progression of the Combat Pass) is also planned for the next weekend, namely from May 1 at 7 p.m. It will end on May 4 at the same time.  The size of the update will be roughly 15GB.
The objectives of the contract
While until now players had to secure a given area, collect different supply crates or kill a target price, the meta 'of the game changes today. Indeed, with the addition of the new contract called Most Wanted, the parties should no longer be alike. This new contract is to be picked up directly and will be indicated by an icon on the card. The contractor will then become a target for all the other players in the game for a determined time. It will then be a question of surviving at all costs during all this period. Obviously, many players will try to kill him and it will be necessary to fight against the numerous enemy assaults to fulfil this contract.
And the reward, then?
Who says risky bet, obviously says reward up to the danger. If the priced player manages to survive throughout the duration of the contract, he will then get a reappearance for all the other members of the team who fell to the ground and died following their passage at the gulag. There will, therefore, be no need to spend $ 4,500 in the refuelling stations to redeploy a colleague who died in combat. A considerable saving of time and money which can very clearly positively reverse the course of a game.
Full patch notes will be released later, but for now, you can check out an overview below:
Modern Warfare April 28 Patch Notes Preview
Fixed a bug where PC players using a Vega64 GPU could see the outlines around their character models and weapons.
Fixed a bug where the selection of the USEF 1 skin for the Mil-Sim operator appears as the default skin in Co-op
Adjusting the speed and size of the circle in Warzone
Fixed a bug where successfully completing completion challenges for SKS would unlock associated camouflage for the Renzetti
Fixed a bug where unlocking camouflage for SKS was incompatible with other camouflage challenges for sniper rifles
Fixed a bug where the "wired" skin for Alex appeared in the thermals
Fixed a bug where certain enemies appeared in the wrong direction during gestures
Fixed a bug that prevented players from choosing their preferred faction in the Operator menu
Fixed a bug where white lighting could be seen when moving or firing a weapon near specific locations
Finally, remember that Call of Duty: Warzone is available for free on PlayStation 4, Xbox One and PC. Call of Duty: Modern Warfare is paid and can be found on the game platforms mentioned above.