If you want to have the armors from Minecraft Dungeons in your Minecraft world then this mod will be the best one for you. The Minecraft MC Dungeons Armors mod has been updated to Version 1.3.7. Here is everything you need to know about this mod.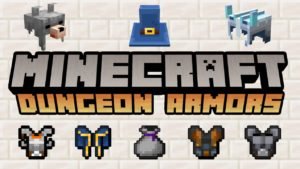 Minecraft
Minecraft is one of the most popular sandbox games which is developed by Mojang. This game was created by Markus Persson in the Java programming language. After several early test versions, the main game was released as a paid public alpha for personal computers way back in 2009 and finally released in 2011 with Jens Bergensten who took care of the game's development.
This game is largely appreciated for its fine blocky, procedurally-generated 3D world. It has endless terrain where one can discover and extract raw materials, craft tools, and items, and build structures. Since 2011, Minecraft has been ported to several other platforms. It is regarded as the best-selling video game of all time. It sold over 200 Million copies and as of 2020, it has more than 126 million active users.
Minecraft Dungeons Armors mod
The Minecraft Dungeons Armors mod is a unique cosmetic mod that will let you have most of the armors from the Minecraft Dungeons. This mod has everything you might be looking for, it has new armor, tools, weapons, and many more items.
Currently, this mod has more than 45 new armor sets in the game ranging from the Mysterious Curious Armor to the Evocation Robes. It also has a wide variety of helmets and new weapons. The majority of the non-unique versions already have crafting recipes and they show up in REI.
The developers are still working on the recipe book as they are quite cumbersome. You'll find unique variants hidden in chests spread across the world. You can attain these hidden chests through crafting. Currently, the Devs are working on the companion mods that will bring the artifacts and armors from Dungeons to the mod
Credit of this mod: chronos_sacaria, SeaOfPixels, SattesKrokodil. 
Other details:
| | |
| --- | --- |
| Mod credit: | chronos_sacaria |
| Game Version | 1.16.5 |
| Size | 909.38 KB |