If you are facing an issue with the Microsoft Teams, do not worry as you are not alone. Many users are also facing a similar problem.
A quick look at social networking sites confirms that Microsoft Teams servers are indeed going through some glitch & server issues. Have a look at some comments down below.
@CerberusLoyy @MicrosoftTeams Teams is currently down for EU at least
@xmanarce @MicrosoftTeams are you having issues? Can't login either app or web

2020-02-03 14:11:09
@rm4rml Anyone else having issues with MS Teams clients ? Web & Desktop versions seems to be down. @MicrosoftTeams #msteams

2020-02-03 14:10:22
@mr_abx @MicrosoftTeams any problems with teams cannot get via the windows app or web app?

2020-02-03 14:08:02
@richjharris Anyone else having a problem with #MicrosoftTeams ?
An outage tracking website, Down Detector also confirms that Microsoft teams is indeed going through some glitch & outage in several locations. Have a look at the outage map down below.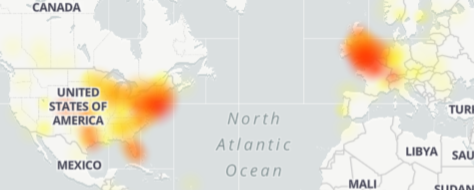 Rest assured, we are keeping a close watch on the current outage & situation. Whenever any update will arrive regarding this issue, we will update the column.
---
UPDATE: 1
Hi Kevin, thank you for letting us know. We are investigating this problem at present and hope to have an update soon.

— Microsoft Teams (@MicrosoftTeams) February 3, 2020
UPDATE: 2
Hi there! We're investigating an issue where users may be unable to access Microsoft Teams. More information can be found in the Admin center under TM202916.

— Microsoft Teams (@MicrosoftTeams) February 3, 2020
UPDATE: 3
Microsoft teams twitter handle says ;
We've determined that an authentication certificate has expired causing, users to have issues using the service. We're developing a fix to apply a new certificate to the service which will remediate impact. Further updates can be found under TM202916 in the admin center.
We've determined that an authentication certificate has expired causing, users to have issues using the service. We're developing a fix to apply a new certificate to the service which will remediate impact. Further updates can be found under TM202916 in the admin center.

— Microsoft 365 Status (@MSFT365Status) February 3, 2020
UPDATE: 4
We've initiated the deployment of the updated certificate and are monitoring service health as the fix progresses. Additional information can be found under TM202916 in the admin center.

— Microsoft 365 Status (@MSFT365Status) February 3, 2020