The end of the year is approaching, the perfect time for Riot Games to unveil the changes coming before 2021. On the program, the League of Legends preseason and the revamp of the object system as well as the studio's advances on bad behaviour and improvements to come.
In this all-new Riot PLS, Jessica "Safelocked" Nam, gameplay producer for the studio, details the first changes coming to the League of Legends preseason, including the revamp of the item system, advances in combating toxic behaviours in the game. the flaw but also the future skins to come.
Mythic items are a new category of League of Legends (LoL) items that promise to change the way players complete their builds. According to Riot Games, these will be the "foundation of itemizations" starting in the 2021 season. The novelty is part of a series of new mechanics that will be introduced in the pre-season, with a complete rework of the item system and a new store that adapts to the situation of each match.
Item Update Season 11: What are Mythic Items in LoL?
Mythic items have great effects that aim to define the play style of each game. Each of these items gives attributes to the other complete items, impacting the builds even after the initial purchase. Each player can only have one mythical player at a time, so the decision of which one to build in each game will be an important factor.
Throughout the Riot PLS board published on Wednesday (9), some mythic items aimed at the snipers class were revealed, with a focus on circumventing some of the main weaknesses of this type of champion, and a new item for fighters of skill power, category who historically suffers from a lack of itemization options that offer the attributes they want.
Crimson Shieldbow (3400 Gold)
+50 Attack Damage
+ 15% Attack Speed
+ 20% Critical Strike Chance
+ 12% Life Steal
When you are about to take damage that drops your life below 30%, you will gain a 150-500 shield for 3 seconds and increased life steal 20% for 8 seconds.
Mythic Passive: Upgrade your other Legendary items with +8 Armor and Magic Resistance
Behemoth Slayer (3400 Gold)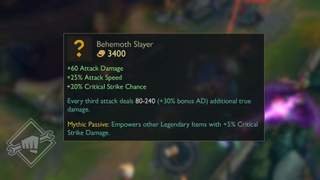 +60 Attack Damage
+ 25% Attack Speed
+ 20% Critical Strike Chance
Every third attack deals 80-240 (30% of Extra Attack Damage) True Damage.
Mythic Passive: Upgrade your other Legendary items with + 5% Critical Strike Chance
Galeforce (3400 Gold)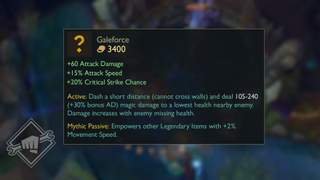 +60 Attack Damage
+ 15% Attack Speed
+ 20% Critical Strike Chance
Active: Dash a short distance (cannot pass through walls), dealing 105-240 (30% of Extra Attack Damage) Magic Damage to nearby enemy with less health. Damage increases with the target's missing health.
Mythic Passive: Upgrade your other Legendary items with + 2% Movement Speed
SHOP AND UPDATES
All items will receive an overhaul to make sure they serve a unique in-game purpose. Some items will remain the same, such as Rabadon's Death Hat, others will be removed and will give rise to new items to exceed the 200 items available in the store.
Other types of champions will receive love from Riot, for example, tanks and Magic Damage fighters, with items like the following:
Cursed Demonhelm (3000 Gold)
+80 Ability Power
+400 Life
The abilities provoke 'Azakana Embrace' for 4 seconds.
Azakana Embrace: The target takes 2% of its maximum health as magic damage every second. You gain 20 Armor and Magic Resistance every second that enemies are affected.
It is important to note that these items are in development, so effects and attribute numbers granted may change until they are introduced to the game.
Furthermore, as explained by Jessica "Safelocked" Nam, the chief producer of LoL, the expectation is that one-third of the game's items will remain the same, one third will look similar, but with improvements, and one third will be removed in favour of new features. It is also worth pointing out that existing items can become mythical items in the pre-season update, bringing unprecedented effects.
The objectives of the 2021 preseason are:
The purchase of items must be agile and intuitive.
Each Champion must be able to make strategic decisions regarding items in each match.
Itemizations should provide fun ways to dominate a Champion.
We want to bring items that convey the feeling of epic powers and deepen the Champion's fantasy.
Iconic items will be kept, so that not everything has to be relearned.
Toxic Behavior and Bad Behavior Update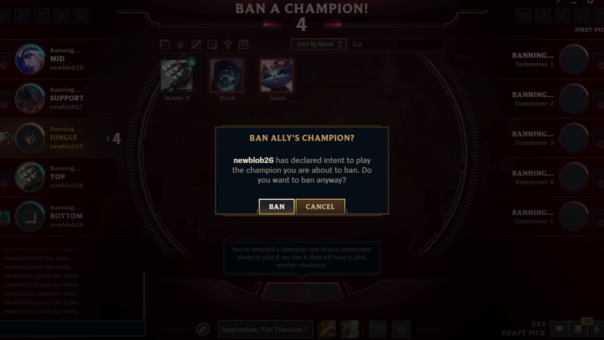 Since May, the studio has stopped its actions to fight against bad behaviour, including anti-gambling and inactivity (AFK). One of the new measures adopted was the flagging and blocking of the selection of champions. Most of the reports came from players whose teammates had intentionally banned the champion they were going to choose. A button specifying that you are going to ban a champion chosen by one of your teammates has therefore been added (you will no longer have the excuse of, "Excuse me, I did not see"). This button allows you to avoid accidentally banishing the preselected champion of one of your allies.
Early game reports will soon be linked to the global system and end-of-game penalties. In the future, the system will be extended to be able to act on alerts during selection.
In terms of in-game behaviours, such as feeding or AFK, these behaviours are now detected by the system twice as fast. Improvements are planned so as not to miss the most subtle cases. Sanctions will also be improved. This will include more stringent play bans and PL losses in ranked mode.
Early surrenders will also be improved to avoid 4v5 and to reduce the impact of anti-play on player LPs.