Before all the content arrived on the PBE, we wanted to give you more information about the store interface. League of Legends Patch 10.22 is a preseason update with some huge changes!
UPDATING THE ITEM SHOP
The Advisors page has been completely reworked to be more adapted to our new recommendation system. This system will take into account a full tree of items that your champion can purchase based on high level player data and provide you with viable item choices. This is how it works:
The store loads all the items your champion can buy based on what you already have.
You are Caitlyn. You have purchased Doran's Blade and Healing Potions. Most of the time, Caitlyn then purchases the Wind Force, Behemoth Slayer, or Red Bow Shield.
The engine takes into account the stats of the enemy team during the game, such as damage dealt, crowd controls, healing, resistances, etc. The store will then display "effective" recommendations based on items that would make excellent choices against each enemy's stats for that game.
Since you're up against a Malphite who boosts his armor, Behemoth Slayer is particularly effective against him. Their Akali is a threat capable of inflicting massive damage. The Red Bow Shield is therefore an excellent choice against her.
The store shows you all of this information, but you decide the best strategy for this game.
Some new Store mechanics:
Initially (for the PBE and the first preseason patch) we'll be making the builds into the system ourselves, but once we've collected enough data in the preseason patch we'll use player data for the preseason patch. recommendation engine.
As its name suggests, you will find all the objects in the All objects page. If you're the type who wants to create your own build as you go, this page is for you.
This section has several features that are worth mentioning:
A series of tabs that allow you to filter objects based on the classes that typically buy them. If you are a Tank, all you need is probably in the Tank tab.
A Popular Items filter that allows you to leverage data from the recommendation system to display only the most frequently purchased items for your character. (When the filter is off, these objects are marked with a star.)
Items are listed by rarity. Instead of sorting them by price as is currently the case, you can find all of your essential and starting items in one place, and your priority Mythic and Legendary items in another location.
Initially, on the PBE, the statistical filters will not be available, but they will quickly join the PBE in a later update and will be ready for the preseason patch.
A new Item Set page will appear on the PBE later (in time for the preseason), but it will retain all of the current features you know and love. Custom item sets will be supported, as will third-party apps to load dynamic sets for your champion.
Besides these pages, we will be adding quick buy sidebars. These will appear on the Advised and All Objects pages. They will give you quick access to the most common items, such as potions, elixirs, beacons, and boots. Now you have no more excuse not to purchase Vision Beacons, as they are still available.
Update of Object Icons
One of the key elements of the object redesign is to update our icons completely to make them look more modern. These could be total revamps of items that haven't been altered in 10 years, or slight edits for newer items.
These updates will allow us to achieve several goals at the same time:
Readability : this is our main objective. Each item icon should have a distinct silhouette and color scheme so that players can immediately recognize them in the shop, inventory, on the scoreboard, and wherever they appear. Don't expect to be able to zoom in on these images to find minute detail. We want them to have a clear visual identity in small formats for gameplay clarity.
Matching Gameplay : We want the item's icon and theme to match its stats and gameplay. Players should be able to identify the theme and gameplay of the item just by looking at its icon. We are trying several techniques to make this possible, for example, trying to make a link between the thematic and the target class (bows for shooters items, heavy armor for tank items). We're also trying to match the icon's colors to the item's stats. This solution works well, but we cannot apply it too rigidly. Otherwise, all AD damage items will end up being the same color.
Quality of graphics : for the majority of objects, the graphics have not changed one iota since 2009. Our artistic team has reworked and developed our artistic style a lot during this time. So we want each object to look neater and prettier.
Familiarity : making changes is good, but it shouldn't be just for the sake of making changes. In most cases, we hope that each new icon will be immediately recognizable to players accustomed to the old shapes and colors.
Theme and Franchise : We want to take this opportunity to make these powerful items fit perfectly with the story and universe of Runeterra.
With all of these goals in mind, some of our existing items only needed slight modifications to meet all of our criteria, while others needed larger modifications, or even in some cases a total overhaul. Here are some examples showing the object before and after its modification: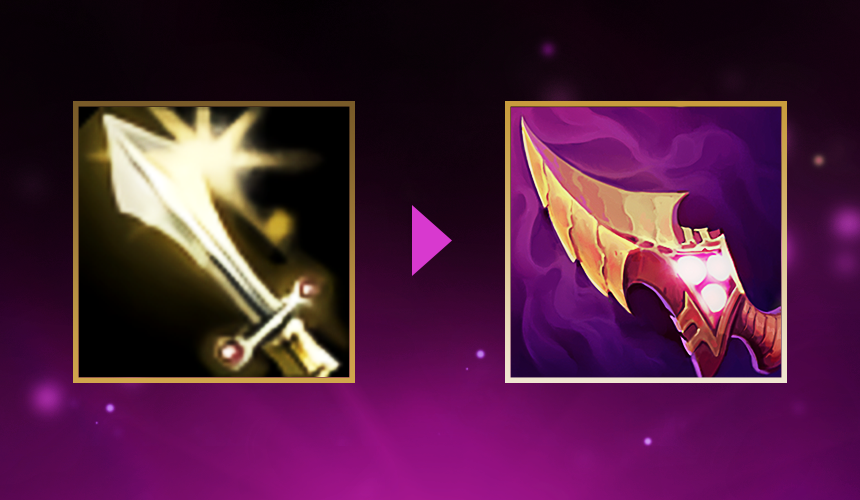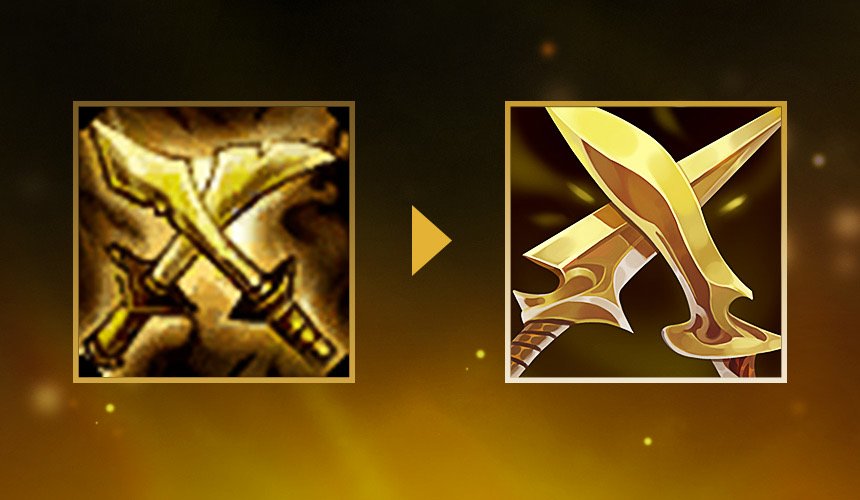 THE PBE FOR THE PRESEASON IS APPROACHING.
If all goes well, all of the preseason content will be unveiled and integrated into the PBE in less than two weeks! At that point, you will be able to see and test all the new items, the store, and other preseason changes. As always, our work in progress is reflected in the PBE; So we'll listen to your feedback and make any necessary changes ahead of the preseason patch release in November.