A lot of Last of Us Part 1 players have run into a weird Insufficient Memory Error while playing the game. Now, this is quite weird because most of the time, you encounter this issue while installing the game on your PC. So, running into it during normal gameplay is frustrating. Naturally, folks are wondering if there is a way to resolve this issue. Well, before you get into the solutions, it is important to know what might have triggered the error. So, if you are also looking for more information regarding this topic, then you have come to the right place.
Last of Us Part 1 is a highly acclaimed video game. Folks have been enjoying it thoroughly on the consoles. now that it is finally on PC, folks don't want errors to ruin the experience. But, similar to other recent titles, Last of Us Part 1 also has its fair share of bugs and glitches. This is usually the case with games that get a PC port. Now, there are a couple of reasons why you might run into the Insufficient Memory issue while playing the game. Below, we will discuss the error and provide you with some solutions for it.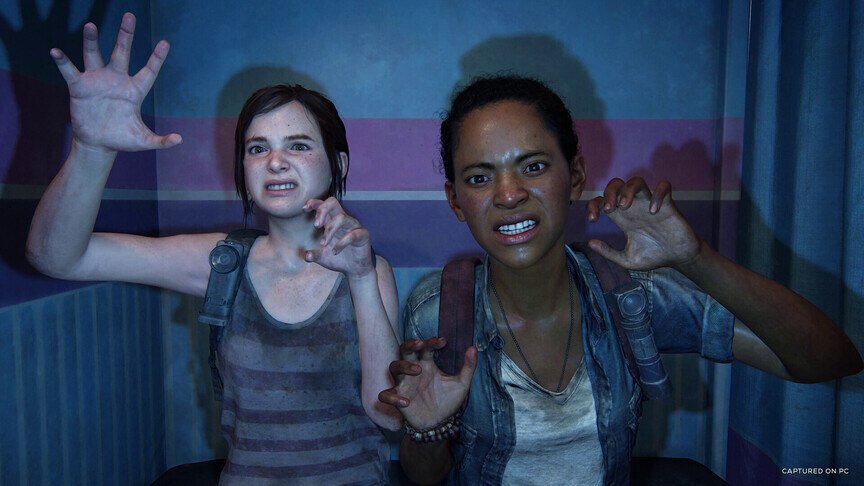 Last of Us Part 1 Insufficient Memory Error: How to fix it?
The Insufficient Memory error points towards a lack of system memory or RAM on your PC. Below, we have some methods that might fix this issue for you. You will also find some general troubleshooting tips that will come in handy. So, let us begin.
1) Restart the game and your PC-
A lot of times, you might get a false error due to a glitch. A simple restart will often fix these types of bugs and glitches. So, close the game and all other programs and then reboot your PC. After this, launch Last of Us Part 1 and check if you're still getting this error.
2) Check the system requirement-
Last of Us Part 1 is a resource-heavy game. So, your PC will need to meet a minimum system requirement to run the game. If it doesn't, then you will face all sorts of issues like crashing, lagging, stuttering, FPS drop, and insufficient memory error. Note that adding more RAM seems to have resolved the issue for a lot of players who were struggling with this error. Below is the minimum system specs required to run the game.
AMD Ryzen 5 1500X or Intel Core i7-4770K processor.
16 GB RAM
AMD Radeon RX 6500 XT (4 GB) or NVIDIA GeForce GTX 1050 Ti (4 GB) GPU.
100 GB available disk space
3) Verify the game files-
Next, you can also verify/repair the game files. A lot of times, you might get these types of issues due to corrupt or missing game files as well. To do this, just follow the instructions below.
Launch the Steam Client.
Go to Library and right-click on Last of Us Part 1.
Select Properties and head over to the Local Files tab.
Click on the Verify integrity of the game files option and wait for the process to complete.
4) Update the GPU drivers-
Outdated GPU drivers are also known to trigger all sorts of issues in video games. So, it is important to keep them up to date. To do so, visit NVIDIA's or AMD's website and check if there is a new version of the GPU drivers available for your graphics card. If yes, then make sure to download and install it on your PC.
5) Increase the Virtual Memory of your PC-
You might also run into this error if you have less Virtual Memory. Fortunately, you can increase virtual memory using the settings provided by Windows. To do this, first, convert the total RAM that you have to megabytes. You can do this by multiplying your RAM size by 1024. For example, if you have 16 GB of RAM, then 16*1024 is equal to 16,384. Now, follow these steps-
Press the Windows key and type View advanced system settings.
Now, go to the Advanced tab.
Under the Performance tab, click on Settings.
Again, go to the Advanced tab and click on Change.
Now, uncheck the box next to "Automatically manage paging file size of all drives".
Now, select the drive where you have installed Last of Us Part 1.
In the "Initial Size", enter the following value- RAM size (in megabytes)*1.5.
In the "Maximum Size", enter the following value- RAM size (in megabytes)*3.
Now, click on Set and then on Ok.
In the end, close the Window and restart your PC.
6) Run the game on the dedicated GPU-
This method is only for folks who have more than one GPU in their systems. This is mostly the case for laptop users. So, it is important to make sure that the game is running on your dedicated graphics card rather than the integrated one. To manually switch it, just follow these instructions-
Through graphics settings-
Press the Windows key and type Graphics Settings.
Now, click on Browse and go to the game's installation folder.
This is generally under Steam/steamapps/common/Last of Us Part 1.
Now, click on the .exe file and then click on Add.
Next, click on the game and then click on Options.
Now, select High-Performance from the menu.
Through NVIDIA Control Panel-
Press the Windows key and type NVIDIA Control Panel.
Go to the 3D Settings tab.
Click on the Manage 3D Settings option.
Now, click on Last of Us Part 1 and then scroll down.
Here, click on the preferred graphics processor option and select High-Power NVIDIA GPU.
Save the Setting and then close the menu.
7) Close background tasks-
Background tasks also use a lot of unnecessary memory while running video games. So, you should free up the system memory by closing these tasks. To do this, press the Windows key and type Task Manager. Then, go to the Processes tab and check which app is taking too many system resources. Once you find that application, click on it and then click on the End Task option.
8) Reinstall the game-
In the end, if nothing else works out for you, then your last hope is to reinstall the whole game. But, due to the large size of the files, this process can take up a lot of time. So, only do this as a last resort. Uninstall Last of Us Part 1 from your PC and then do a fresh installation.
Well, this also brings us to the end of the article. We hope that you were able to resolve the issue. Stay tuned to Digi Statement for more such gaming guides.