Goalang Wongsawat showed his unbelievable combination of Muay Thai and Fist God Glow but in the end, it's a Double Ring-out. Who could have seen this coming and which one will become victorious? Right Fist God or Underground Legend. In this post, we are going to talk about the outcome of this fight, Kengan Omega Chapter 64 release date, and spoilers.
Kengan Omega Chapter 64 Spoilers –
Before looking at the spoilers, let's first discuss chapter 63 of 'Kengan Omega.' Kengan Omega Manga chapter 63 titled "THE GOD FIST UNLEASHED" was published yesterday under MangaONE & Ura Sunday (Shogakukan).
This chapter has covered the boiling blood battle between the Right Fist God (Goalang Wongsawat) and the Underground Legend (Carlos Medel). Medel showed the upper hand in speed but Goalang overcame this by his strength. Medel knew that another right punch of Goalang is enough to take him down. So, he ventured to recover this with quick and shallow breathing but Goalang wouldn't let him. In order to match up in speed, Goalong unleashed his Muay Thai and then started to land back to back hit on Medel. Medel tried to dodge only his right punch by moving backwards but back to back Goalang's kick made him evaporated and at last Goalang headed for a straight right punch (God Glow) on his face.
Everyone was happy that Goalang is going to win but they forgot that it's not a Kengan match, but a purgatory one. Everything went as Medel planned. Even though taking too many blows, he didn't give up. He was guiding Gaolang by falling back to the edge of the ring. He baited his face and takedown off-balance Goalang outside the ring including himself which results a double ring-out.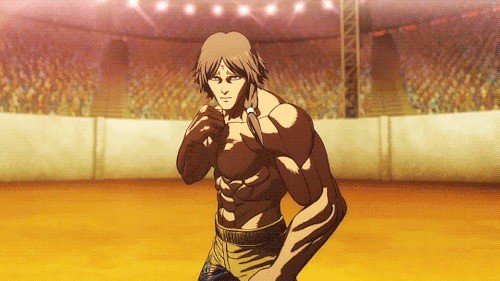 But the question arises who will win? Now it's time to discuss what will happen in the next chapter?
Based on the spoilers and our prediction, Medel will win. We know that no one will happy if Medel win as Goalang beat him down but in the last image of the manga chapter 63, we can see Goalang's elbow has touched the ground first. Also remember Liu Dongcheng words, "Under Purgatory rules. Purgatory gladiators never lose." Another reason for Goalang's subjugation is that there will be 13 matches between Kengan and Purgatory and we are pretty sure that Yabako sensei will show 6 wins and 6 losses on Kengan side to make last battle intense.
Kengan Omega Manga Chapter 64 Release Date-
Kengan Omega Manga Chapter 64 will officially release on 4th June, 2020. This is a weekly scheduled manga meaning that every 7 days apart we get a new chapter. Kengan Omega Manga Chapter 63 was released yesterday therefore next chapter probably releases next Thursday.
WHERE TO READ Kengan Omega Manga Chapter 64 –
You can read the latest chapter of the Kengan Omega Manga online as soon as they are released on the official website for Kengan Omega MangaStream. You can also read Kengan Omega Manga from mangafreak website or isekaiscan website.