"It Takes Two" to build and maintain a relationship. This multiplayer game is developed by Hazelight Studios and published by Electronic Arts. The action-adventure is becoming quite popular among the masses. This article is focused on dealing with the split-screen issue for many players.
Synopsis
Cody and May are having a marital quarrel. May complains that Cody does not have the least bit of appreciation for May's hard work. They decide to tell their daughter Rose about their marriage falling apart. Rose runs to the shed in tears and picks up the look-alike dolls of her parents. A drop of tear falls on them and Cody and May find themselves as dolls. Now, they need to work together to escape this situation.
It Takes Two Gameplay
The game is divided into levels. The two players have to time their movements carefully and progress further. The game can either be played in local co-operative mode or online mode. The game grants different power buffs to the players. At any particular level, Cody may get the power to stop time while May can replicate herself.
As the game progresses with the co-operation from the two players, it is designed as a split-screen game. It is quite logical to have that in local mode. However, some players find it annoying in online multiplayer mode.
Need for the Split-screen
Developers at Hazelight had designed this to help the players see what their partners are doing. As the proper sync of power buffs and movements is essential, this proved to be beneficial. However, the network lag can pose gameplay difficulty. The movement already performed by one player might not be seen by the other. This does create a little confusion at times.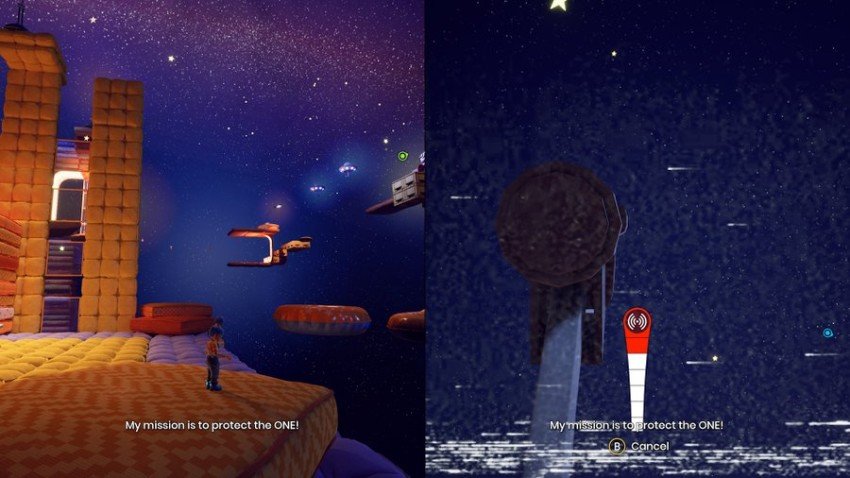 Whatever be the case, currently there is no option to disable the split-screen feature of It Takes Two. However, we can guess that either a button to see the partner's perspective will be given or any other measure will be taken. It depends on the developer's discretion. No doubt, this game is very fun to play and also is quite relaxing. If you face any difficulty, you can post it in the game threads here.