iRacing, originally known as iRacing.com, is a subscriber online driving simulation video game produced and released in 2008 by iRacing.com Motorsport Simulations. The publisher's servers host all races and practice sessions. The game simulates real-world vehicles, tracks, and racing activities, as well as implementing codes of conduct based on real-world auto racing. Only Microsoft Windows is where this game is available. Though its fame among players from all over the world, it is enclosed with several errors and glitches. One of them is the iRacing not detecting wheel error. If you are facing this error and want to fix it, we have it all covered in this blog for you!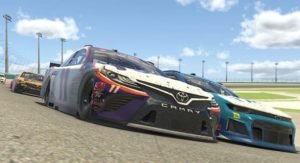 About iRacing
In official racing, iRacing only allows for a practical cockpit view, but other camera views are permitted in test sessions or other sessions if the host or organizer permits. When a user account is created, the player is given a Rookie license in all categories. To progress to the "D"-level license and beyond, the user must complete a number of races with little to no crashes, off-track incidents, or loss of power.
What is the wheel not detecting error in iRacing?
When you start a race or any practice session, your G29 wheel in the system shows an error and does not get detected. Though it's a glitch, there is a solution to it.
How to fix the wheel not detecting error in iRacing?
Below we have mentioned G29 racing wheel set up in the Logitech Gaming Software. 
First of all, open your Logitech software for the wheel.

Then, click on the blue arrow on the bottom left to change the input device. Click it until you see a picture of your wheel.

After that, click one of the highlighted buttons on the big picture of the wheel.

Make sure 'iRacing HUD' option is selected at the top.

Then use the iRacing simulations to set up the buttons.

After that double-click on the Steering Wheel near the top corner. That will take you to your actual wheel settings. 

Then you can change the settings according to your needs and then just click on 'apply' button.
The settings will get saved and the wheel will start getting detected in the game.