Prodigy Math Game is a freemium arithmetic game developed in Ontario, Canada for students in grades 1-8 to practice math at home and at school. It was published in 2011 and has developed tremendously since then, with 50 million players as of July 2020. The game is currently available on the web browser, iOS, and android. Here in this blog, we will be telling you how to get a free Prodigy membership in 2021 without any hacks or clickbait! This is a legitimate way that can you can get yourself a free membership in Prodigy.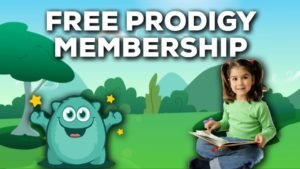 About Prodigy
The goal of the game is for the player to explore the globe as a young wizard and battle creatures by solving mathematical problems in order to cast a spell. The math problems are connected with the grade and state chosen during the account creation procedure. The Puppet Master, a malevolent entity aiming to control all the pets in order to destroy the island, is the main adversary in Prodigy Math Game. Pippet, his sidekick, is a puppet.
In Prodigy, the player's role is to rescue the pets, save the zone's "guardians," and destroy the Puppet Master and Pippet. By playing, the user accumulates gold, items, clothes, and other accessories that can be used in-game.
The Prodigy Math Game is intended to make learning more interesting for young children in grades one through eight. It has features for both instructors and parents, such as accounts for parents to manage their children's in-game accounts and accounts for teachers to manage their classroom.
How to get a free Prodigy Membership in 2021?
By following the steps given below, you'll be able to get yourself a free membership in Prodigy. This is not a hack or a clickbait, this is a very true and legit method.
Firstly, go to the Prodigy mass game website.

After that click on login, if do not have an account, you need to make one first.

Click on the 'Share Prodigy' option.

And then copy the link below it.

Open the website on a new page and log out of your account.

Then follow the login instructions on the page and select 'teacher'.

After that enter your login details like email and password.

Once you have logged in, fill in the rest of the details like a classroom, school, and grade.

Click on 'Add a Student' button and then fill in the details of the student.

After that, create a password and you are good to go!

Now, go to the main website to play the game and log in using the details you created in the last step.

Once in, you need to create your wizard and head into a game.

After you have played the game, you will be able to claim the free Prodigy Membership!
We hope this blog helped you get a free Prodigy Membership.