Minecraft is a 3-D sandbox game developed by Mojang. This game provides you everything yet you don't have anything in the beginning. Players have to extract materials to forge weapons and tools. You can build houses and earth structures. The overall game has boxy graphics. Today, we are going to talk about an error of this game – Minecraft error code 255.
What is Error code 255 ?
The error 255 in Minecraft is a run-time error. This means that the error is displayed during the execution of any program. Any program in the world is not error-free. The glitches and bugs are generally addressed during testing and debugging. However, some errors come to sight only after production.
The Runtime error 255 can be caused due to a variety of reasons. There can be instances of file deletions or addition from the game directory. Other probable reasons are memory sector failure, virus attack, or graphics card issues. Unexpected file deletions are very common which results in this error.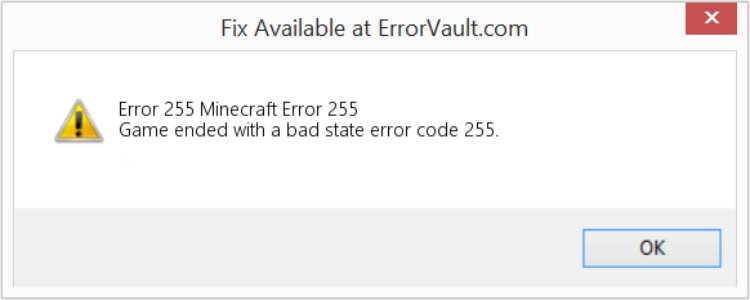 How to fix IT ?
The runtime error does not have a sure fix because the cause cannot be identified easily. You can try the following solutions to see what applies to you.
Close conflicting background programs – Sometimes, all sorts of programs run in the background. One of those might function in such a way to conflict with the Minecraft execution. Go to the Task Manager and close all the programs that you don't need right now. Press the Ctrl + Alt + Del keys together. Now, click on Task Manager. Select a particular task and click on End Process.
Update graphics driver – Outdated graphics drivers tend to fail while executing the latest games. To update your graphics card driver, go to Device Manager. Under Display Adapters, you can locate the graphics card driver of your PC. Right-click on it and click on Update.
Fixing Runtime libraries – Microsoft Visual C++ packages play a vital role in rendering graphics. From the Control Panel, go to Programs and Features. Now, find the Microsoft Visual C++ redistributable package. Select the program and click on Uninstall from the top. Once this is uninstalled, reboot your computer and then download the latest version of the same.
This can hopefully fix your Minecraft error code 255. Developers are trying to find the root cause of the bug. You can always contact them from their Twitter Handle. Enjoy the game until then.