Hulu is a very popular premium streaming service that offers live and on-demand TV and movies, with and without commercials, both in and outside home. The ad-supported plan has been priced at $5.99 per month. You can access various shows, movies and more from the Hulu streaming library. Eligible subscribers also have an option to sign up for annual billing and pay $59.99 per year. Eligible students can also sign up for the Hulu plan at $1.99 per month with the Hulu student discount.
There are various features available on Hulu. You can stream various channels on two screens at the same time. You can keep track of your favorite shows and movies in My Stuff. You can also enable the autoplay when you wish to binge-watch your favorite content. There is a facility to create six profiles for everyone in a household. You can watch in up to 1080p/60fps and listen in 2.0 stereo and 5.1 surround sound. There are various personalization features with which you can improve your recommendations.
There are no hidden fees, equipment rentals, or installation appointments with Hulu. After you finish your sign-up, you can change or cancel your subscription at any time. For subscribing to any of their plans, you need to be located within the US, make a valid payment and have an internet facility with a download speed of around 3mbps.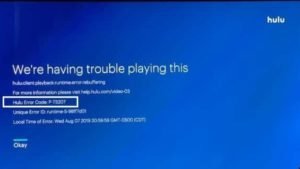 But recently Hulu users have reported a problem related to their service. It has been reported by Samsung TV users who said that they have been experiencing an error called the Error P-TS207. They said that they are unable to play any content on Samsung TV. Users said that they were successfully able to launch Hulu. But when they opened a content, it was not playing at all. Instead, it was showing the Error P-TS207.
Users have also complained that the error popped up suddenly in between when they were playing and watching any content. Some said that the error appeared when they tried to skip a video by a few seconds. If you are facing this error while using Hulu on Samsung TV, you can follow these steps to fix the issue by yourself –
Make sure that you have a stable and working internet connection. If not, contact your internet service provider.
Turn off your connected devices like modem and router and unplug all the connected cables for some time. Turn them on again, launch Hulu and see if the error still appears.
If you are using a VPN while watching Hulu content, disconnect it and then see if you still face the problem.
Uninstall and reinstall the Hulu app.