Forza Horizon 4 is a recently developed racing game set in the fictionalized world of Great Britain. It was developed by Playground Games in 2018 and was made available on Microsoft Windows and X-Box and later on X-Box XS in 2020. Though this game is well developed, it contains several bugs and errors. One of the errors in this game is 'error code FH301'. If you are wondering what this error is and how you fix it, we have it all in this blog.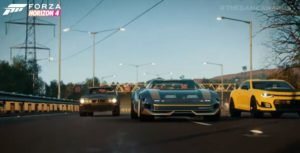 About Forza Horizon 4
Forza Horizon 4 is a racing video game set in an open world environment based in a fictionalized Great Britain, with regions that include condensed representations of Edinburgh, the Lake District Ambleside, the Cotswolds (including Broadway), and Bamburgh among others.
The game features a route creator which enables players to create races using completely customized routes. It takes place in a synchronized shared world, compared to the AI-driven 'drivatars' from its predecessors, with each server supporting up to 72 players. The game is also playable in offline mode.
The game is also playable in offline mode.
What is Error code FH301 in Forza Horizon 4?
Error FH301 means the graphics card driver needs to be updated, Forza Horizon 4 requires the latest AMD and NVidia graphic card drivers to function correctly.
This error is usually occurring when the device of gaming is not up to date and does not meet the basic requirements of the game. The minimum requirement for FH4 is given below:
OS: Windows 10 version 15063.0 or higher

DirectX: DirectX 12 API

Memory: 8GB

VRAM: 2GB

Processor: Intel i3-4170 @ 3.7Ghz or Intel i5 750 @ 2.67Ghz

Graphics card: Nvidia GTX 650 Ti or Nvidia GT 740 or AMD R7 250x
Error FH301 is usually an issue from the user's side and not the developer's side.
How to fix Error code FH301 in Forza Horizon 4?
This error first shows up when you have newly installed the game. It pops up on the screen and does not let you launch the game. Though no security patch is released for this error, we have a method you could try to fix the error from your end.
Restart your computer and go into BIOS. There is a setting to allow the APU integrated Graphics to use 2 gigabytes of System Memory. Don't change anything else. Leave everything else the way it is.
Change the "Integrated Graphics" to "FORCE". With this setting, your Integrated Graphics will ALWAYS be primary whether you installed a separate GPU card or not. This is just temporarily to see if the game will play with your APU.
Then Change "UMA FRAME BUFFER SIZE" from "Auto' to "2G". This will allow the Integrated Graphics R7 to have 2 gigabytes of Video Memory. (You will have 2 gigabytes less of Memory that you will be able to use on your computer for other uses).
Save the BIOS setting and reboot. Now see if you can install or run Forza Horizon 4 game.

If the game still says your APU is not compatible then change everything back to "default" which is :
"Integrated Graphics" – "AUTO"
"UMA FRAME BUFFER SIZE" – "AUTO"
This way when you install a new separate GPU card it will automatically pick the GPU Card as your Primary Graphics.
This solution should fix the error, if not you can write to the tech support of the game for further assistance.