Finding and evolving a Hydrini is a difficult task in Loomian Legacy as it is very rare. Well, if you are wondering where to find one and how to evolve it, we have got the perfect guide for you. Here's everything you need to know.
Hydrini- How to catch one in Loomian Legacy
Hydrini is a basic water-type Loomian. It can be found in areas experiencing heavy rainfall. And also, the time has to be somewhere between 3-4 pm. However, the chances of getting a Hydrini is very low as it has been speculated to be 1 in a 100/300. Although there is no confirmed update by the Devs on this, it is a very rare Loomian for sure. Once you have acquired the Loomian, level it up to level 23/26(according to various sources) to evolve it into Bezeldew.
The good thing is that when you find a Hydrini in the wild, it is already leveled up to 25. So, all you have to do is level up one more time and your Loomian will evolve into Bezeldew.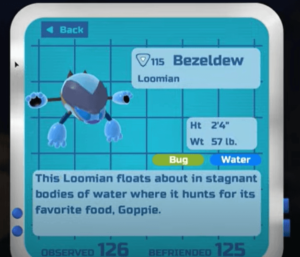 Now comes Deludrix. It is the evolved version of Bezeldew but certain requirements should be met while evolving it. To evolve a Bezeldew into Deludrix, you have to make sure the area in which you're evolving is raining heavily. Once you get your Bezeldew to level 38, your Loomian will evolve into Deludrix in an area having heavy rainfall.
Deludrix is a Bug/Water-type Loomian as well. When evolved, the base health and energy stat varies from 100 to 200. Also, this particular Deludrix has attack and defense stats of 110 and 52 respectively. This Deludrix has a superior attack stat than most while its defense is a fair bit to the lower side.
There you have it. We provided you with all the necessary information needed to catch a Hydrini and how to evolve it further to Bezeldew and Deludrix. Follow us for more content.