Trials of Mana, the remake version of 1995's popular Trials of Mana has finally arrived. The new Trials of Mana is a 3D remake of Trials of Mana – the third installment in the popular Mana series, which was released as the sequel to Secret of Mana.
Trials of Mana 2020 have been fully redeveloped by Xeen and Square Enix. And the developers have done a great job to deliver an all-new experience to the fans with modern 3D graphics.
Players in Trials of Mana can choose their favorite protagonist and two companions from six different characters to navigate field environments and fight enemies in real-time. In our recent post, we have mentioned the best characters to choose from in Trials of Mana. Visit the link mentioned below, to check out more details on the same.
---
---
Well, in Trials of Mana you will find different bosses and it will be difficult for you to defeat them in fights. One of these bosses is Fullmetal Hugger Boss, who will appear later in the game. Fullmetal Hugger a giant monster crab with a body armor that is tough to defeat. Don't worry, if you faced him once and had a hard time taking him out. As here, we will be mentioning how to defeat Fullmetal Hugger Boss in Trials of Mana.
We will mention his moves and strengths, along with the guide to defeat him easily. So, stay tuned.
How to defeat Fullmetal Hugger Boss –
Well, to defeat your opponent in any game, you need to know all his lethal moves and special powers. So, we will mention Fullmetal Hugger's lethal moves in Trials of Mana and its counter too.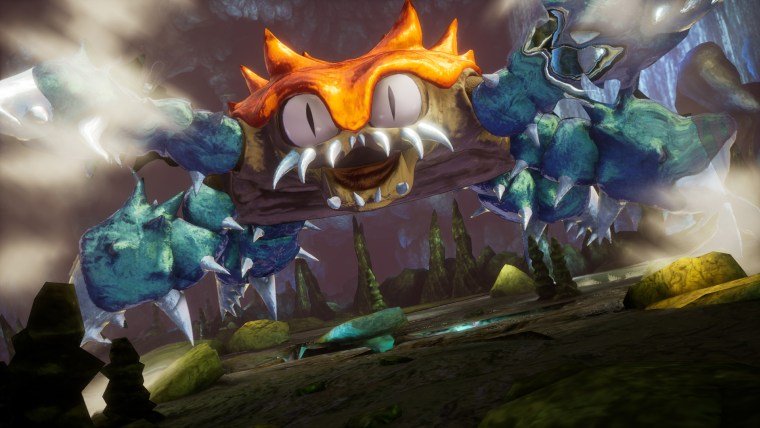 Fullmetal Hugger Boss in Trials of Mana has got three lethal moves. You can't stand in front of any of the attacks, as it will cost you a lot of HP. So, the basic counter for the lethal attacks of Fullmetal Hugger Boss is dodge & attack.
Fullmetal Hugger Boss Special Attacks –
Eye Beam –
Fullmetal Hugger Boss uses Eye Beam more often and it's a lethal attack too. The Eye Beam emission from his eyes covers a triangular region and it will give you a lot of damage if you enter that area.
But that damage-area of Eye Beam stays in front of his face. But there is a way to attack the boss without taking much damage. You can move to Fullmetal body's sides or back and hit him through WhackBam and moves like double-slash.
Dive Bomb –
Dive Bomb is another lethal move, and Fullmetal Hugger Boss uses it when his health depletes by 50%. In this move, he moves up in the air and then dives back with high-speed. 
This attack deals with high damage and you won't be able to survive for a long if it hits you. The best way to deal with this move is by dodging it. So, stay away from the red circle which appears on the ground while he is up in the air while preparing for the attack.
Holy Bolt –
The last and most dangerous attack by Fullmetal Hugger Boss is Holy Bolt. Holy bolt will be used right after the Dive Bomb when the boss reaches a critical HP. 
In this attack, the Fullmetal emits lethal radiation which creates a damage-area like Eye Beam attack. The damage-area is circular which is formed in front of his face.
Here, you need to follow the same strategy, that is, dodge and attack. Try to stay away from the damage-region and keep attacking the boss till his HP runs out. Keep attacking from the side and back of his body.
That's all about the guide for how to defeat Fullmetal Hugger Boss. You can check out other guides too. Just visit the link below to read more.