Romwe is the only destination for all the cool things. You can discover new things you never knew you needed and stay inspired with the new content and have fun with the best promos that let you shop to your cart's content. Romwe has been constantly partnering with famous brands, TV shows and flicks for bringing you the exclusive products with your favorite characters in it. The Romwe Creators program offers emerging designers a chance to partner with them and take their designs to the next level with an exclusive capsule collection. They hope to inspire talented artists as well as new found fans from around the world by featuring the designers' artwork on their platform.
The site is completely dedicated to the ethical and humane production of their each and every product. The supplier signs a binding letter of agreement to heed to the best production standards and they enforce those standards. Romwe doesn't make any compromises in ethical production and will correct the issues when they hear of them. Their goal is to offer their customers with products that are ethically produced, fashionable, fun and best-priced. Romwe was established in the year 2010 and they created their international website and launched their app in the year 2011.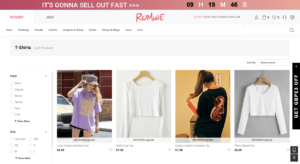 Now talking about the shipping time of Romwe, let me tell you that Romwe only offers one option of shipping which is the Standard Shipping. The Standard Shipping of Romwe takes 7 to 14 business days. If the total price of your order is over ₹1,800, you don't have to pay any extra cost. If the total price of your order is below ₹1,300, then you have to pay an extra cost of ₹130 and if the total price is more than ₹1,300 but less than ₹1,800, the you have to pay an extra cost of ₹80.
Shipping time is estimated and it commences from the date when you purchase the order and sometimes can take more than the expected time because of reasons like incomplete address, invalid phone number, consignee unavailable. Because of inventory issues, packages might be shipped from different warehouses and packages shipped from different warehouses can also have a different shipping time.