If you are facing issues with the Honeywell Home app & website and they are not working for you, do not worry as you are not alone. Many users are also facing a similar problem.
A quick look at social networking sites confirms that Honeywell Home servers are indeed going through some glitch & server issues. Have a look at some comments down below.
@AspiringOne @Honeywell_Home what's going on?! Your website is down and there's no way to log into my thermostat?!? #honeywell #honeywell #thermostat #WiFi

2020-01-24 05:15:17
@GerardRaiti @Honeywell_Home @Javid150 Mine also not working

2020-01-24 05:13:02
@AtahinaD @dwell @Honeywell_Home Your server is down?

2020-01-24 05:02:10
@teamshitsh0w @Honeywell_Home The App and Web portal are both down for mytotalconnectcomfort – do you have an eta on when those service swill be restored?

2020-01-24 05:00:08
@KipDondlinger @William_Holroyd @Javid150 @Honeywell_Home Same here. They never are willing to acknowledge a wide outage. Always try to say it's just you but here we go again.
An outage tracking website, Down Detector also shows the report of outage in some locations. Have a look at Down Detector outage map & report down below.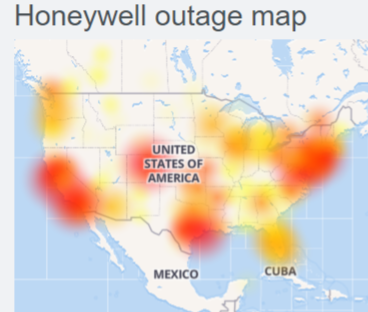 Rest assured, we are keeping a close watch on the current outage & situation. Whenever any update will arrive regarding this issue, we will update the column.