HBO Max is a subscription video-on-demand streaming service. It is owned by AT&T through WarnerMedia direct subsidiary of WarnerMedia. HBO Max was launched on 27th May 2020. It has been built around content from namesake premium television service HBO. It usually works as a content hub of WarnerMedia's different film and television properties. It provides a range of original programming and library content from the company along with additional content licensed from third-party distributors.
Before the launch of HBO Max, WarnerMedia said that it would have 10,000 hours of content at launch. This also includes first-run and library content from namesake HBO and from the other brands and networks of the company. It was also said that HBO Max would feature around 2,000 films available at launch. This includes HBO's existing pay television rights sourced from studios like their sister company Warner Bros. Pictures, Universal Pictures, and 20th Century Studios.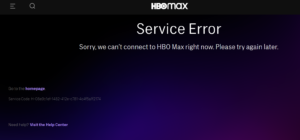 Customers have loved the service of HBO Max. But on the other hand, the internal errors of the app have also created certain issues for them. Users have recently reported that they are getting a service code error while using HBO Max.
A user of Apple TV said that he is getting a service code error and HBO Max has been down for almost two days. A Fire TV Stick user said that every time when he opens HBO Max, it shows a service code error. He said that his internet speed is fine and everything else has been working well except HBO Max. One user said that he has been trying to get HBO Max on his TV and PS4 for a very long time but he is unable to do it because of the service code error. A PC user said that he is facing the same type of problem.
Some users have also reported that the error appeared when they were streaming content on HBO Max. Users said that the error appeared suddenly in between when they were playing a film or TV show on HBO Max. Some also said that the error appeared when they clicked on any content of HBO Max. If you are facing the service code error on HBO Max, follow these steps to fix the issue by yourself –
Ensure that you are using the latest version of the HBO Max. If not, update it.
Restart your device and relaunch HBO Max.
Try playing another show or movie in case if the error appears after launching the app.
Open the app on another device and see if the error still appears.
Try troubleshooting your device.
Switch off your mobile data or Wi-Fi connection, turn it on again, and see if the error still appears.