It has been quite a long time since GTA fans are expecting the release of the newest title in the GTA series, GTA 6. However, we have some interesting map leaks for GTA 6 which you might be interested to take a look at. Here's everything you need to know.
GTA 6
GTA 6 is one of the highly anticipated games after the success of Rockstar in their GTA Series. Featuring mesmerizing graphics and better optimization, GTA 6 is going to be one hell of a game upon release.
GTA 6- Map Leaks
So, recently GTA 6 map leak surfaced on the internet which included a Miami-based topography similar to that of GTA Vice City.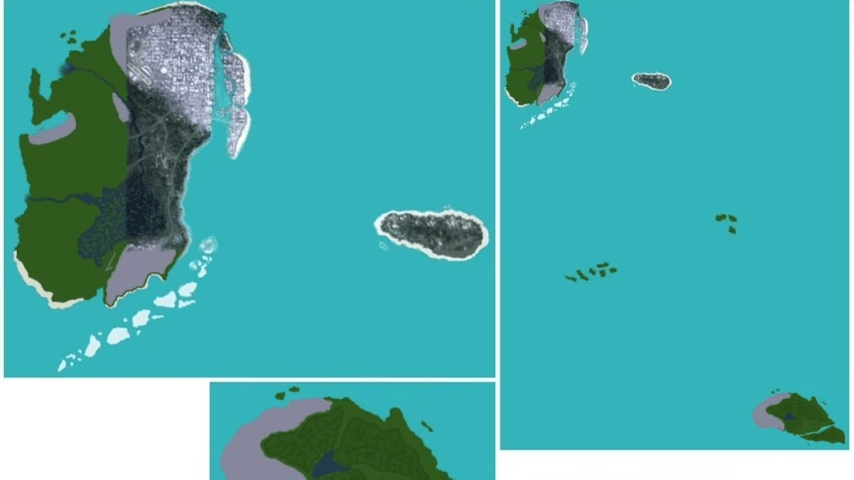 We can see that there is a main island on the left which covers the majority of the space and a connected island to the right. However, there is another small island to the bottom right of the map. So basically it seems that the GTA 6 map will consist of a couple of small islands along with a really big one.
GTA 6 Map Leak Legit?
Well, it is rather difficult to say if that's legit or fake. However, knowing Rockstar's history with maps when someone leaked the map of RDR2 years before the game actually came out, this map leak for GTA 6 might actually be legit. But we can't be 100% sure. Also, you can watch this video to know more about it.
GTA 6 Release Date
As of now, all we know is that the game will not be released in 2021 or in 2022. So, maybe 2023? But when it does, there's gonna be chaos across the whole gaming community to try out this masterpiece.
GTA 6- Supported Platforms
It is quite obvious that the newest installment of the GTA series will be coming to the next-gen consoles as well as PCs since it will be released in 2023 or later. So, be ready to experience insane visuals and performance in the upcoming game, GTA 6.