One of the biggest updates in GTA 5, the Cayo Perico Heist update is scheduled to be released on December 15. And as we expected, the new map Cayo Perico Island will not be available to explore for Free Roam. Here's everything you need to know.
GTA 5- Cayo Perico Island
The new GTA 5 Online- Cayo Perico Heist update is based on the notorious island of Cayo Perico. The island is home to one of the deadliest Drug Dealer and is filled with guards that are armed from top to bottom. From choosing mission strategies to choosing crew, everything depends on the player's choice. One interesting option added by Rockstar is that players can either take their custom crew with them or go entirely alone to complete the heist. However, one bad news awaits us in the new update.
@GTAOnlineNews has revealed in a Twitter post that the prediction was correct about Cayo Perico Island's Free Roam limitations. Although at first, they revealed that Cayo Perico will not be available for free roam, later they posted a new tweet regarding this.
A new tweet correction was posted by @GTAonlinenews that suggested that Cayo Perico will be partially available for free roam.
In another tweet, GTABase.com has confirmed that you can travel to Cayo Perico when you want after completing the Heist as a leader, and you can invite friends!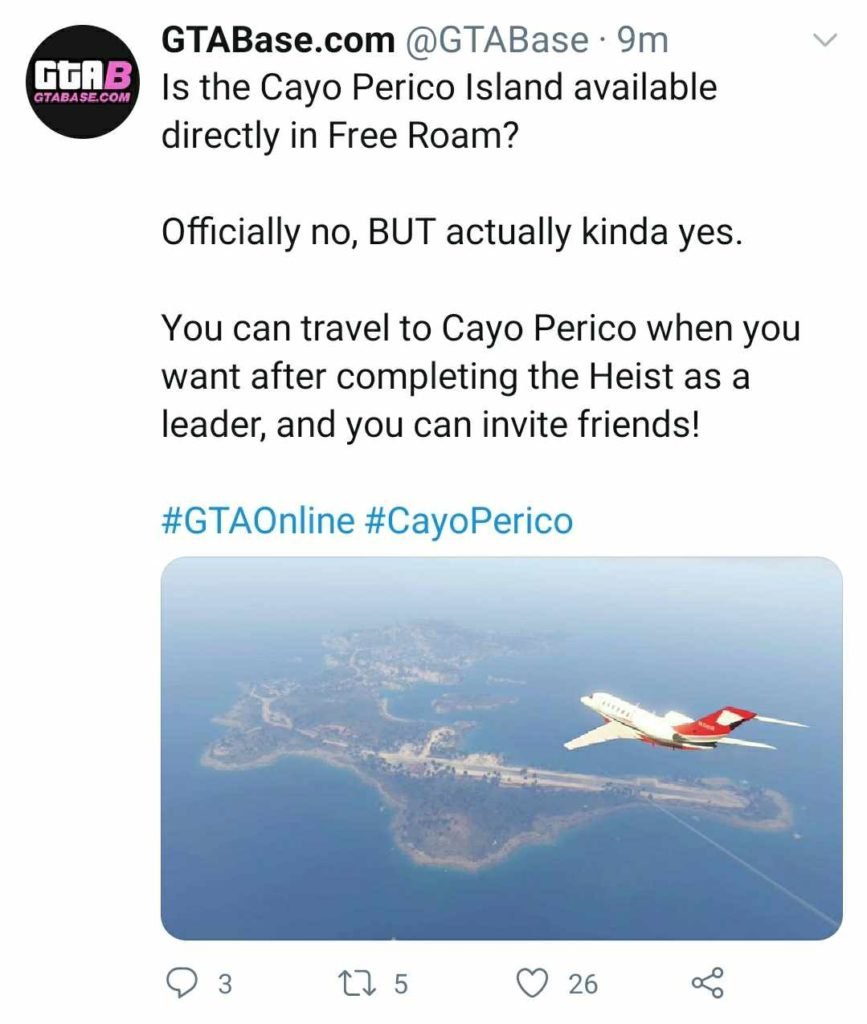 Also, not yet confirmed though, Rockstar has revealed in an article that they might be releasing an update that will allow players to be able to free-roam Cayo Perico in 2021 somewhere near April.
The GTA 5 community is upset about the news as many expected otherwise.
GTA 5 Online- Cayo Perico Heist other new changes
The new GTA 5 Online update also introduces a new night club and a variety of radio stations with more than 100 new songs.
GTA Online: The Cayo Perico Heist

Infiltrate the remote island of Cayo Perico, home to GTA Online's biggest heist yet, playable from start to finish solo or with a crew of up to three of your friends.

Play now: https://t.co/FvOM1leq29 pic.twitter.com/VF6qYm6WHD

— Rockstar Games (@RockstarGames) December 15, 2020
Located beneath the Diamond Casino and Resort, the new night club is named The Music Locker. Owners of a Penthouse in The Diamond will get the exclusive bonus of a VIP section and a little table service too.
New vehicles and tactical weapons are also included in the new update. So, it's time to experience the adventure that Cayo Perico has to offer.