One of the most popular features offered by applications in the modern era is the Dark Mode feature. Be it a mobile app or a website, millennials love the Dark Mode feature. They want all applications to provide that option. The Dark Mode feature saves a considerable amount of energy on OLED/AMOLED screens. Also, the Dark Mode feature may also provide comfort to the eyes by screening out the "blue light" of our devices. Many apps that still do not provide the Dark Mode feature are facing criticism for the same. One such app is Google Classroom.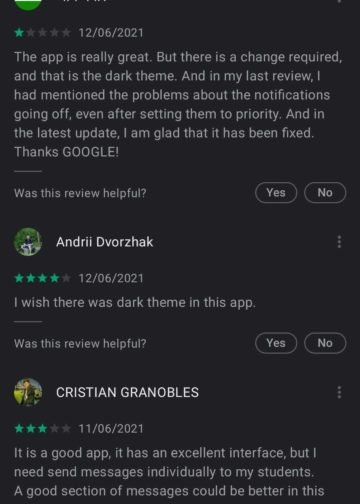 Users want the Dark Mode feature to work comfortably at night
There are a lot of reviews on Google Play Store and Apple Appstore, suggesting Google incorporate the Dark Mode feature in Google Classroom. The most common reason provided by users is eye comfort. A vast number of students and teachers access Google Classroom at night. The human eyes may face issues with a light interface if the room is not properly lit. Hence, several users are making this request to provide a Dark Mode feature for Google Classroom.
According to research led by a team from Harvard, excessive exposure to blue light can deteriorate the secretion of a hormone called Melatonin, which is said to induce proper sleep at night. There are a few claims by companies that provide the Dark Mode feature for their applications. The claims consist of how the Dark Mode feature can reduce eye strain and provide better visibility in dim light.
Is using the Dark Mode feature really helping?
The Dark Mode may seem to improve the quality of the experience of an application. However, it just might be harming the users too. It is natural for human eyes to be more adjusted to seeing in properly lit conditions. In dim conditions, the human eye finds it difficult to focus, and hence, the size of the pupil increases to adjust to the conditions and focus on the object. This is not desirable as it is actually increasing the strain on the eye. Naturally, the human eye is more adjusted to the dark-on-light theme on screens rather than the light-on-dark theme.
Concluding this article, Google should provide a Dark Mode feature to Google Classroom considering that many users are requesting the same. However, there's no scientific benefit to using Dark Mode over light mode at night.