Friday Night Funkin' is a very fun game. But it depicts a story too. It tells us a story of Boyfriend who is trying to win all the music and rapping battles against all the rivals. The rivals gets changes every week and each week has usually 3 rounds. There are a total of 6 weeks till now. By the time we clear each round, the opponent gets stronger.
The significance of the game much increases when mods of the game come into debate. The mods of this game has facilitated the players of this game to never run out of content. There are various kinds of mods that we have mentioned in our articles. You can check them by heading here. This article is about playing Sarvente's mid-fight masses mod online at PeppyMods.itch.io without downloading.
Sarvente's mid-fight masses mod
To start with featuring the mod, let's know more about this mod. This mod comes up with the following features and changes :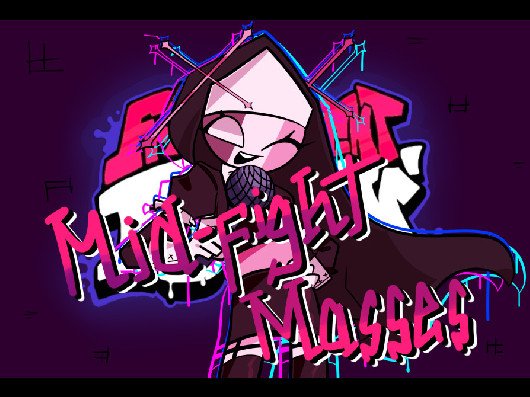 A really cute nun

who will force you to go to church.

A full week with 3 + 1 really funky songs! With a stead beat – but a 

whole lot of raps

(you gonna get hit by a ton of verses and they aren't even bible verses.
A well detailed background for each song depending on the mood.
Full cut-scenes for each song with some animations.
Customized dialogue system (with emotions! No more dead looking boyfriend).
Replayable Cut scenes from the Pause Menu during Story Mode.
Cross fades while you be doing the epic rappin'.
Free-play menu bops to the music that is playing and that's bumpin.
Another extra song which is the remix of the Tutorial, accessible in Story Mode Tutorial Week
A new difficulty – 

ALT MODE

 for those who get tired of these easy peezy songs (Note: not all songs have ALT MODE. Only this Week, Week 1 and Tutorial(s) have ALT mode songs. The rest are copies of Hard mode and we may add more soon)
This mod is available to play on PeppyMods.itch.io for free without downloading it. To play this on PeppyMods, you can visit here.
Credits :
Note
It should also be noted that :
The site mentioned in this article is just for an informational purpose. We don't support using it to play this game online & its mods.
We suggest our readers to play the game through newgrounds.com or itch.io & mods through gamebanana.com