Friday Night Funkin is a fan favorite rhythm game. What makes it different from other rhythm games is basically it offers an adrenaline rush to the players. Friday Night Funkin is one unique game because the characters get cameos from popular anime series or classic Sega games. This article covers the latest mod details about 31 Minutos cameo in Friday Night Funkin.
The rules of the games are simple. Player has to compete different bosses in different levels. To make it to the top, the top player gets a chance to win his lady love. The controls are quite simple, the player has to click the arrow key which is appearing on the screen at that moment. If the player successfully clicks the correct arrow key, The player gains points.
31 Minutos mod
31 Minutos is popular television series as well as a Chilean music band. This band was first aired in 2003 and its final episode was aired in 2014. Through the series, this tv show gained affection, love, and respect from all its fans all over the world. The new story mode of Friday Night Funkin has featured the band's  characters, which refreshes old memories.
Long story short, Mr. Hose left his studio open and went to collect more followers for himself. Meanwhile, Boyfriend was looking for his lady love. He notices that his favorite stars 'The 31 Minutos' are live, hence to get an autograph, he duels to get inside the studio and meet his idols. This mod is brought to you by 'TopCat'. The vocals of this mod are soothing and bliss to the ears and the latest mod enhances the music and sound quality too.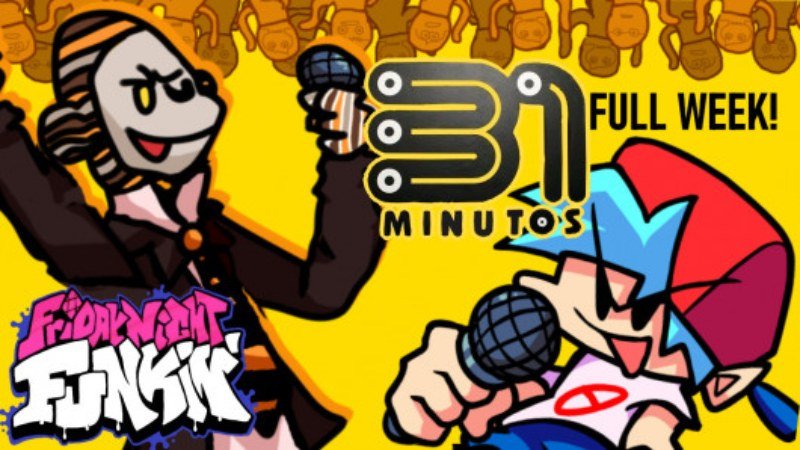 The latest mod also has the cameos from the television series. We have to compete against each of them to reach the final stage of the game.
A complete demo and details of the game can be found in the link below:
Friday Night Funkin Mod ( 31 Minutos ) from Gamebanana : Download Link
Mod Credit : GenoX and Barry v
This concludes all there is to know on the 31 Minutos full week mod.