The second chapter will soon have the curtain drawn and we are looking for to the Season 3 leaks regarding the upcoming battle pass. So here is all the compiled information that we are excited to share. All the information here is a 'might' since there is no official word but they are likely to come with future updates. Fortnite is used to the crazy stuff so here we go!
Season 3 Release Date
Fortnite Chapter 2: Season 3 is set to appear on June 4th, 2020. The season was scheduled to be released on April 30th but in the light of current global pandemic, the development was pushed back and resulted in a month's delay.
Fortnite Season 2 Chapter 3 Leaks
So let's get down to business. All the information here is unofficial and is to be taken with a grain of salt. There is still plenty of time for Epic Games to make changes and tweak things up. There have been various patches when Epic games just decided to change things at the last moment.
A lot of the leaks are thanks to Tabor Hill who says the leaker is a reliable source. He is also the one that told us first about the Season 2 map changes. Some of the leaks are already confirmed but came as a part of patch 12.50.
Season Theme
Blue. Yes, Blue! The theme of the next season is supposed to be around water. We are heading towards summers and some water to blow steam will be a superb idea! Since water will be the theme, Epic will be changing and adapting the water mechanics of the game in the new map! During the Travis Scott event, we saw the implementation of swimming elements and that might have been a test to add water-based locations for the new season.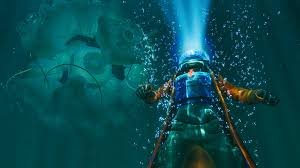 Fire
More environmental type gameplay is in Fortnite's notes. This experimentation will be bringing about some very cool changes that we cannot wait for. We are looting and suddenly our building catches fire! Do we compromise health or leave the loot. Wooden structures are the most likely accomplices to fire as well player built structure. Maybe the grass will also be caught on fire, let's see. Some Molotovs and flamethrowers, oh the possibilities are endless with fire. And we do love to play with fire!
Agency Taken Over by Shadow
Shadow faction has a big role to play for next season as they take over the Agency that exists in the middle of the map. Maybe a huge front war against Ghost or some takeover story with a coup d'etat.
Weapons/Items/Vehicles
Guns and ammo maketh a man or a woman. Let's look at the guns, vehicles that will be appearing next season.
Fishing Book
Since water is the theme, a fishing expedition sounds fair. This will be some sort of a book that will guide you for the mission or challenge or whatever this turns out to be.
Flare Gun
With flare guns, the idea of loot comes in mind but Epic games might decide to mix things up. Flare guns might be reinforcement calling or causing a fire. Let's see what the idea of flare guns is for fortniters.
Shark Vehicles
Rideable shark, Fornite turning into the Jaw as we get shark chasing and eating people. Soon we will have sharks patrolling the water-filled areas. And somehow this feels like a natural extension to the gliders concept introduced in Fortnite.
Quadcrashers Return
Some type of Quadcrusher type of vehicle will don the streets of Fortnite. Mobility is a concerned topic in the game and Epic are trying to change it
Leaked Cosmetics
Fortnite is known for its pop culture-inspired skins so let's take a look.
Aquaman Battle Pass Skin
So the King of Atlantis will take the throne in the murky waters of Fortnite. The biggest leak of the season will definitely be the Aquaman skin. It will also mirror the Deadpool skin from Season 2 and goes perfectly with the water theme.
Fully Customizable Glider/Umbrella
Maya skin from season 2 was fun right? Well, this will be a customizable glider option will blow you out of the water. Pun intended.
Robot Meowscles
A similar concept to P-1000 skin concept that was available in the shop maybe. The information is vague so we will have to wait and see.
Female Black Knight
According to the leak, you have a chance to earn the Female Black Knight skin. It is one of the most popular skins on Fortnite and a new addition to it would add to its hype.