Nintendo has released the new Event Calendar for its free-to-play, tactical role playing game Fire Emblem Heroes today for their latest update which launched on May 7th for Android and iOS devices and here's a look at the oversimplified version of it.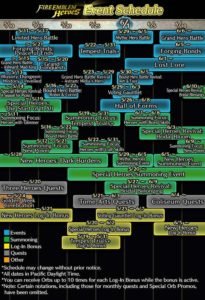 The following events will be mentioned in their chronological order in mm/dd format :
~5/21 – Forging Bonds : Peaceful Ends
Gain friendship with heroes through battle in this special event. For up to 7 days during the event you can earn 2 orbs(once per day), the first time you clear a map.
The rewards include First Summon Tickets and Divine Codes.
~5/13 – Illusory Dungeons : History Unveiled
This is a special event where you have to take part in tap battle quests where you can earn orbs and accessories and explore a 100 floor dungeon!
~5/15 – Grand Hero Battle. Ashnard : Mad King
Ashnard : Mad King is waiting in special maps as a new grand hero! By defeating him, he'll become an ally. He will be removed if unclaimed by 5/16.
~5/11 to 5/17 – Limited Hero Battle
Restricted deployment options will force the players to rethink their approach and calculate their moves. It is worth the extra effort as the rewards include Hero Feathers and Divine Codes by clearing them for the first time.
~5/15 to 5/20 – Grand Conquest
In this special map, three armies will fight for territory in 3 battles each lasting for 2 days. Contribute to your army's victory to earn great rewards!
~5/16 to 5/22 – Bound Hero Battle : Robin and Corrin
Players must defeat all enemies without losing an ally to win and be rewarded in orbs
~5/22 to 5/31 – Tempest Trials +
Special event where the players challenge a series of high difficulty maps for 10 days to earn special rewards.
~5/23 to 5/29 – Grand Hero Battle Revival : Astram, Midia's Hero.
These are special maps which are essentially harder Hero Battles and the reward is the featured hero, Astram.
The player must defeat all enemies without losing any ally.
~5/26 to 6/8 – Hall Of Forms
This is a special game mode that allows players to raise preset teams separate from their normal progress, across 26 levels.
~5/29 to 6/3 – Voting Gauntlet
Events where eight heroes battle to determine who will come out on top.
~5/29 to 6/5 – Mythic Hero Battle
Players must defeat all enemies without losing any ally. The rewards are Light/Dark/Astra and Anima blessings and orbs.
~5/30 to 6/5 – Bound Hero Battle Revival : Alm & Faye.
6/1~ Lost Lore
6/5~ Forging Bonds
6/6~ Grand Hero Battles
… And that's the entire Event Calendar for Fire Emblem Heroes. We hope this helps you keep organised with your heroes and their quests!