Escape from Tarkov is an online action role-playing game/Simulator being developed by Russian studio Battlestate Games. A closed alpha of the game was first made available to select users, on August 4, 2016.
Recently, several Escape from Tarkov posted about a problem related to the game on various social media platforms. According to the players, the game servers are unavailable and not responding.
The users also mentioned that they are getting a 403 error each time they launch the game. Well, if you are having the same issue, fret not, you are not alone.
Escape from Tarkov 403 error issue has been addressed officially by the developers team. Battlestate Games officially posted about the same on Twitter and mentioned that they have been receiving reports about the 403 error in the game
According to Battlestate Games, the issues are occurring because of the high traffic on the servers. The statement also mentioned that the team is currently working on the solution. The tweet also suggests users to wait for 5 to 10 minutes before restarting the game.
Well, the issue has not been solved for now, but you can try to restart the game if you encounter any such error.
Check out the official tweet below –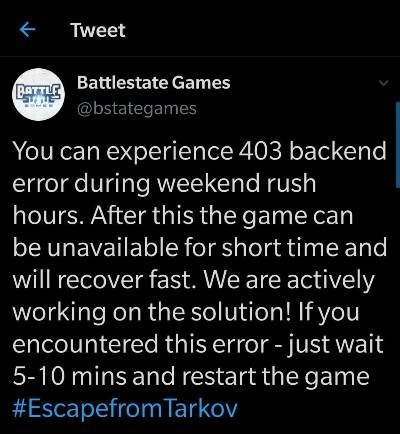 Stay tuned, as we will update this space with the latest related news and updates.