Dragon Ball Xenoverse 2 is an action role-playing fighting game from developer studio, Dimps, and publisher, Bandai Namco Entertainment. The game is a sequel to the 2015 game Dragon Ball Xenoverse. It is available on various platforms such as PlayStation 4, Xbox One, Microsoft Windows, Nintendo Switch, and also on Google Stadia.
DLCs in Dragon Ball Xenoverse 2
The game has received a total of 14 downloadable content packs so far. All of the DLCs have been released post-launch including the new edition Ultra Pack. The developers of the game launched the Legendary Pack DLCs in 2021. Every legendary pack includes two to four characters, extra story mode missions, extra stages, new fighting moves, skills, new quests, and also other elements for the added characters.
Dragon Ball Xenoverse 2 DLC 13 Details
The upcoming DLC 13 for Dragon Ball Xenoverse 2 is the next "Legendary Pack" update for the game. The game is celebrating its 5th Year Anniversary in 2021. It is a major update coming to the game. The update "Legendary Pack 2" is set for worldwide release in the Fall of 2021.
Caulifla (Super Saiyan 2) is a new character confirmed to be coming with the next DLC. Likewise, "Caulifla's Clothes" are coming to the Avatar wardrobe as part of a paid DLC. Similar to the Legendary Pack 1, the next DLC update is bringing Extra Missions this time too.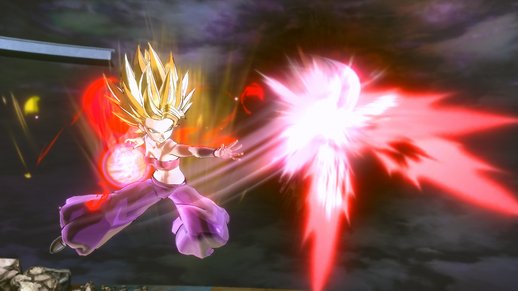 One other character coming with the "Legendary Pack 2" is Gogeta from Dragon Ball Super.
Here is a trailer for Gogeta:
According to promos, Fu is back at it again and looking to conduct more experiments in the upcoming missions that take place in the time before the events of the hit theatrical release "Dragon Ball Super: Broly" movie.
Here are some other details & speculations regarding the DLC 13 update:
The DLC is expected to add 3 new playable characters to the game

It is also expected that the DLC will include 7 Skills with 2 Updated Skills.

The DLC is also expected to feature 4 new costumes.

Likewise, the speculation is that it will feature 1 new CAC form as well.

A likely new addition with the DLC is a brand new Story Mode.
We can expect the release of the Dragon Ball Xenoverse 2 DLC 13 update in the last week of October or the first week of November.