We have come a long way since the first-ever smartphone came into being. The world keeps witnessing numerous innovations and developments now and then. Well, alongside the evolution of smartphones, security, and privacy are two important aspects that saw development as well. With a spurt in demand for better security and privacy, we also saw the arrival of fingerprint scanners, infrared face scanner, iris scanner, and what not. Almost every little smartphone these days comes with a bunch of security features to lock the device. A patter, password or a pin alongside a fingerprint or a face unlock option is pretty common these days.
Almost every Android devices provide these basic features of unlocking the device. But, the problem arises when we forget the password or the pattern. This creates an issue if you don't have a fingerprint scanner or something else up the sleeves. This is when you wish for a tool that could possibly unlock your Android device. Well, Yes, there is something that you will like. Android Multi Tools is an amazing application that can easily unlock your device, whether it is protected by a password or a pin.
Android Multi Tools:
So, if you are stuck with a locked device and are unable to unlock it even after several attempts, then this might come in handy. This is a pretty amazing tool with a bunch of amazing features. Whether you forgot your password or have reset the device and unable to gain access, this tool will do everything for you. This tool can unlock Android devices with a password, pattern or pin lock enabled. What's even more interesting is the tool even unlocks a face id protected device. That's cool, right! You can also gain access to your device by unlocking your device protected with Gmail signed-in.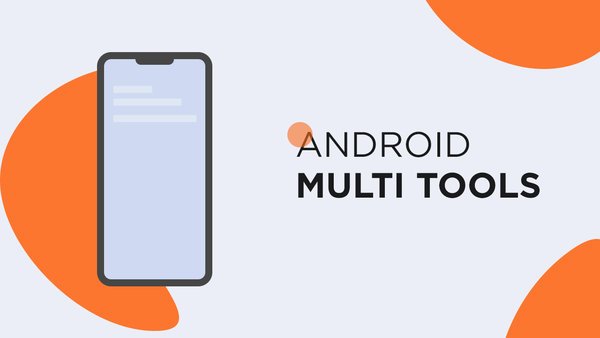 The tool can unlock pretty much every device that runs on Android. The application is compatible with all versions of Windows and is easy to use.
Android Multi Tools Features:
The tool itself has a lot of useful features. Apart from unlocking the device, it also offers several other features that come in handy. Here are some of the most useful features the tool offers.
Reset Face/Pin Lock: The option allows you to easily unlock a locked device. This option is only used to remove a password or pin lock from the device.
Reset Face/Gesture Lock: This option comes in handy if you want to unlock a pattern protected device and even a face lock.
Reset Gmail: You can also reset your Gmail account on the devices. This will allow you to access the devices without signing in after resetting the device.
Wipe Data: The tool also allows you to wipe all the data from your device. You can clean up your device easily with this.
Check Device In Fastboot Mode: The tool can perform device checks as well. This option helps you check your device in the Fastboot Mode.
Wipe Data/Cache in Fastboot Mode: 'Just as the option says, it wipes all the data and cache in the Fastboot Mode itself
Software info: You can get the complete details about the software currently running on your Android device.
Hardware Info: The tool also provides complete information about the hardware and various components of the device.
[Guide] How to use Android Multi Tools:
The tool comes with a pretty simple UI and is completely easy to use. You can follow these steps below to easily unlock your Android device. Before proceeding with the guide, you need to take care of these few things:
Enable USB Debugging option on your device from the Developer Options in settings.
Install the proper USB device driver for your model of smartphone.
You should have a properly working USB cable and ensure that you have sufficient charge on your smartphone.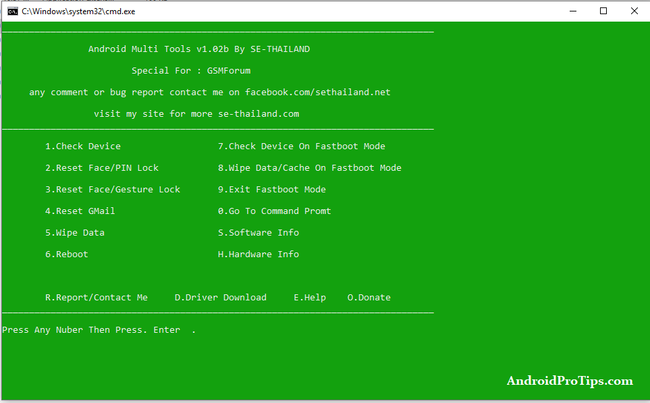 After ensuring these few things, you can now proceed with the steps below.
STEP 1 –
Download the zip file given below. After downloading, extract the folder in your PC and run the Android Multi Tool application inside the folder.
STEP 2 –
Connect your device to the PC using a USB cable. After the tool recognizes your device, it will automatically show you a list of options to choose from.
STEP 3 –
Choose the number for the corresponding feature that you want to use for your device. If you want to reset the password or pin lock then choose 2 and hit Enter. The tool will automatically do the rest.
That's it. Voila! You have successfully unlocked your device with just a few steps. Go ahead and try out all the other features in the tool. Cheers Peeps!!
Stay tuned for further updates on Android Multi Tools and more such related content. Also, share this article with all those people who were worried about their forgotten passwords.