Online streaming services have seen massive growth since they first came out. Well, now there are more than thousands of online streaming services on the internet. We have also seen gamers streaming their gameplay earlier. But what we have come across today is far more interesting. Tech giant Google has introduced a new cloud-based service for gamers. This is not just a gameplay streaming service but is way more than that. Google calls it Stadia. This allows you to play games online without having it on your device. You can play it on a remote-based cloud server. Isn't that cool?
Google Stadia for gamers:
Google Stadia is indeed a pretty incredible gaming service from Google. Stadia itself comes with tons of features that are as amazing as it sounds. Google cloud ensures a smooth and better gaming experience throughout the gameplay. Stadia also allows you to play games from pretty much any screen that you want. You can play games on your smartphone, PC, Android TV, Android Box, and many more. You can also use HID supported gaming controllers to play these games. What else do you need?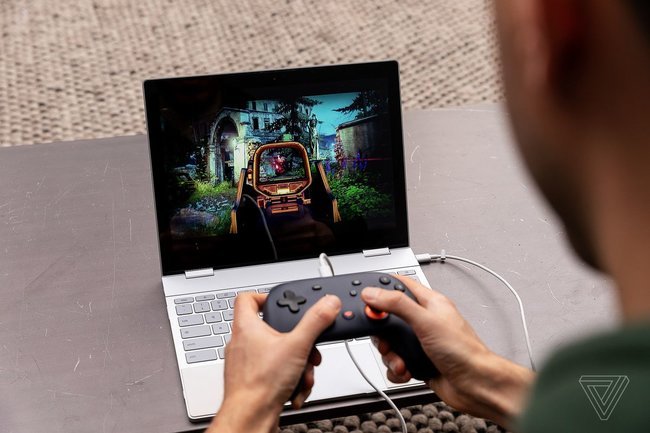 While there are no restrictions as to where you can play games on Stadia, there's still a slight catch. You need to use the screen of any devices where you want to play through Chromecast on your device using Stadia. Currently, Google Stadia is only supported on Android smartphones and Android Tablets as of now. Stadia is currently limited to only a few Android TV and TV boxes as of now. Well, Google has also launched some Stadia gaming controllers that you can use to play games.
To use stadia services, you need to subscribe to the service, but there's good news for you all. Google is offering two months of Stadia Pro subscription for free. Users who already subscribed will also be getting two months of extended subscription validity. Google is currently offering Stadia services in only 14 supported countries.
Download Google Stadia:
Forget about everything; Stadia offers you a huge list of top gaming titles that you love. Apart from all those awesome AA titles, Stadia offers some of the top-line AAA titles like GRID, Destiny 2: The Collection, and Thumper, and more. You can enjoy all these games in the comfort of your gaming chair.
While Stadia doesn't readily support all the Android TVs and Android Boxes apart from a few, there is still a way to get it working for you. So, just follow these few simple steps, and you will have Google Stadia up and working on your Android TV or Android Box. This method is completely genuine and is tested to be working. Stadia runs perfectly on Android TVs, including Nvidia Shield, Sony 4k Android TV, Sony Bravia 2019 model, Xiaomi Mi TV 4 series, Philips Ambilight Android TV, and many more. Android Boxes like Mi Box S, Mi Box 3, and more also proved to be working in the test. So, you try it out on your device as well.
[Guide]How to install Google Stadia and play games on any Android TV/ Box/ Smartphone/ Tablet:
It's pretty easy to set up and get it working. You can enjoy 2 months of free Stadia Pro subscription completely free for now. Go, grab your offer soon before it expires. Follow these easy steps to install Stadia and play games anywhere you like.
STEP 1 –
Visit Stadia.com and register yourself with a new account to get a free Pro subscription. After that, download the latest Google Stadia apk for your smartphone from the link given below.
STEP 2 –
You can play games directly on your smartphone or tablet after installing the app and signing in with your Stadia account credentials. For Android TV/Box, follow these simple steps: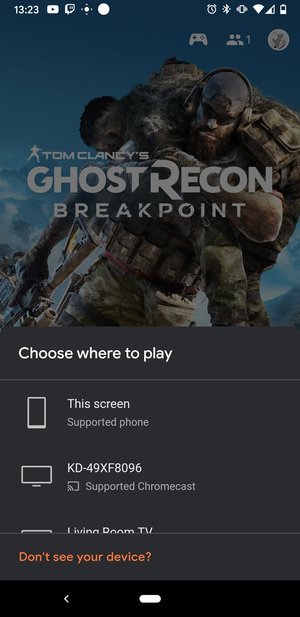 Go to Settings > Apps > Show system apps > See all apps > Show system apps and select "Chromecast Android Shell."

Proceed to Force Stop, Clear Cache & Clear Data.

Restart your Android TV and wait till it boots up.

Grab your phone, close the Stadia app if you had it running, open the app again, and you should see your Android TV among the "Choose where to play" devices.
STEP 3 –
Tap on the option that lists your TV, among other options. That's it; now you can enjoy any game that you want on Stadia.
Voila! Now, you have successfully set up Stadia and got it working on your Android TV/Box. Start playing your hearts out and try every out other game that you ever wanted to play. Cheers, peeps, happy gaming!!
Stay tuned for further updates on Google Stadia and more such related content. Also, share this article with all those gamers who were waiting to try out Stadia on their Android TV/Box.