One of the biggest patches in recent times has landed at our foot! Valve just made balance changes to every hero in the game, significant buffs and nerfs to over 100 heroes at once. The Dota 2 meta is about to shift drastically from a 10-25 mins power spike heroes to something we are not sure of. Rather than covering the full patch notes, we decided to analyze the winners and losers of 7.27b. We compiled opinions and analysis of experts to make a judgment of the best buffs and nerfs that will affect your pub meta from today! You can read the official patch notes here.
Biggest Nerfs & Buffs of Dota 7.27b Patch
With Valve rescinding a lot of the reworks applied over 2 years, a lot of the heroes are going back in time. Some of them get stronger from that but others significantly suffer.
Wraith King Nerfed
Base damage increased by 3
VAMPIRIC AURA
Vampiric Aura no longer provides attack damage or self bonus mechanics
Vampiric Aura lifesteal increased from 5/10/15/20% to 8/16/24/32%
Vampiric Aura now has half effect on ranged heroes
MORTAL STRIKE
Mortal Strike Skeleton attack damage increased from 30-35 to 35-40
This means that Wraith King does not have any bonus 30+ damage from his W passive, this change messes up his early timing of farming neutrals and getting larger items like radiance. Though there is a significant buff to his lifesteal, it might not account for the damage reduced.
Ursa Nerfed
Another hero that ran rampant in the last patch especially in pubs. It was auto picked or banned in every game. He had everything going good for him, strong lane, mobility, status resistance, damage, quick Roshan killer. There was a surety to this nerf.
EARTHSHOCK
Earthshock slow reduced from 10/25/40/55% to 10/20/30/40%
Earthshock cooldown increased from 9/8/7/6 to 11/10/9/8
ENRAGE
Enrage cooldown increased from 50/40/30 to 70/50/30
TALENTS
Level 20 Talent changed from +1.2s Enrage Duration to -3s Earthshock Cooldown
A significant nerf to Earthshock now changes his farming patterns and dumps his ability to dominate early. Now it does not make sense to max out earthshock because of the cooldown and increase & the slow decrease too. It makes it easier for Ursa to again be kiteable.
Clinkz Reworked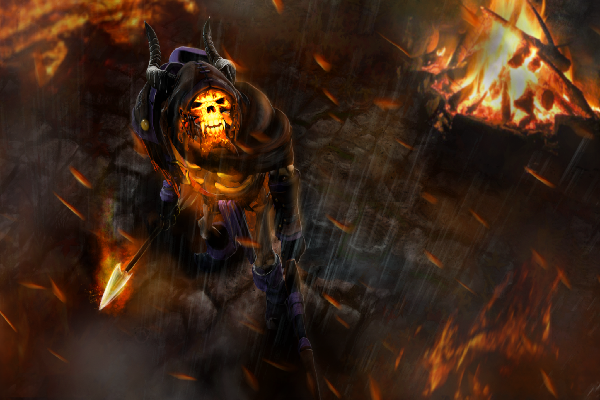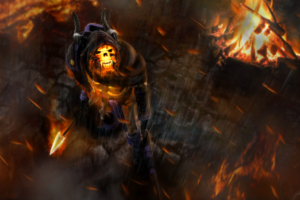 Intelligence gain increased from 1.7 to 2.2
Attack point improved from 0.7 to 0.4
SEARING ARROWS
Searing Arrows damage increased from 25/35/45/55 to 30/40/50/60
Searing Arrows mana cost increased from 9/10/11/12 to 12
STRAFE
Strafe is a basic ability again. Grants 110/140/170/200 attack speed and 100% evasion against ranged attackers. Lasts 3/4/5/6 seconds. Cooldown 34/30/26/22. Manacost 40/50/60/70.
SKELETON WALK
Skeleton Walk now provides invisibility and 15/30/45/60% movement speed. Does not end invisibility when casting his spells. Lasts 25/30/35/40 seconds. Cooldown 20/19/18/17 seconds.
BURNING ARMY
Burning Army is now a scepter ability. Summons 5 skeletons in a 1300 line. Skeletons have 1000 health, but die in 2 hits and deals 30% of your damage. Cooldown 90, Manacost 150.
DEATH PACT
Death Pact has been reworked and is now his ultimate. Consumes a target friendly or enemy creep, gaining a percentage of its hit points as max health and damage. Gains 6/10/14% of the target's current health as damage, and gains 60/80/100% as health. Lasts 65. Cooldown 80/70/60. Manacost 100. Cast Range 900.
TALENTS
Level 10 Talent changed from +9 Strength to +1.75 Mana Regen
Level 10 Talent changed from +7 Agility to Skeleton Walk Exit Summons 1 Burning Army Skeleton
Level 15 Talent increased from +12 Searing Arrows Damage to +25
Level 15 Talent changed from -30s Burning Army Cooldown to -10s Skeleton Walk Cooldown
Level 20 Talent increased from +100 Attack Range to +125 Attack Range
Level 20 Talent changed from +325 Death Pact Health to Kills Reset Death Pact Cooldown
Level 25 Talent changed from +3s Skeleton Walk Attack Speed to +50/5% Death Pact Health/Damage
Clinkz has gone back to the old ways now. We think this rework is a buff to the overall strength of Clinkz. Though the permanent damage was strong, he now gets a half scepter ability at level 10 talent. Strafe changes to its old strong self. The hero also gets a good intelligence gain buff to negate the mana issues in early to mid-game. Here is the opinion of our very own EG. Crit-
Reverting a complex hero into simplicity, awful change, im usually behind patch decisions but this is on level with the Io changes back in the day for me. Sadge

— Cr1t- (@Cr1tdota) July 16, 2020
Chaos Knight Buffed
The problem with CK was that he didn't scale, his illusions did hardly enough damage to matter because of chaos strike cooldown.
CHAOS STRIKE
Chaos Strike now has a 30% chance to proc instead of using a cooldown
PHANTASM
Phantasm cooldown reduced from 125 to 75
Illusion count reduced from 3 to 1/2/3
Illusions outgoing damage increased from 40/70/100% to 100%
Phantasm illusions no longer have an extra 25% magic resistance
Manacost reduced from 125/200/275 to 75/125/175
TALENTS
Level 15 Talent increased from +12% Cooldown Reduction to +14%
Level 25 Talent changed from +1.5 Max Chaos Bolt Duration to +1s Min/Max Chaos Bolt Duration
Level 25 Talent changed from -1.5s Chaos Strike Cooldown to +10% Chaos Strike Chance
Now that chaos strike is proc based and phantasm is reverted back to the original state, it makes him scale up with attack speed. 75-second cooldown on Phantasm allows him to farm early with it too. Even in the late game, this gives enemies a lesser window to dominate the map! Huge buff to our boi Chaos Knight.
Drow Ranger Slight Buff
Base damage spread reduced from 49-60 to 51-58
Movement speed increased from 285 to 290
Base armor increased by 1
TALENTS
Level 10 Talent increased from +40% Gust Blind to +50
Level 15 Talent changed from +20 Movement Speed to -6s Multishot Cooldown
The level 15 talent change with increased movespeed can be an important factor with Drow.
Spectre Nerfed This Patch
The three most overused carries got the biggest nerfs from Valve. Spectre was last on the list.
Base health regen reduced from 2.5 to 1.5
SHADOW STEP
Shadow Step can now target Spell Immune units
HAUNT
Haunt illusions no longer have a fixed 400 movement speed
Haunt illusions no longer have a 1-second delay on acting
DESOLATE
Desolate damage increased from 20/30/40/50 to 30/40/50/60
Desolate search area reduced from 500 to 425
Desolate no longer reduces vision
This is not as simple as a buff or a nerf though. We think his overall team fighting capability is reduced. Haunt earlier used to cause chaos in fights due to a lack of vision for enemies. Now desolate has more damage, lesser area, and no vision reduction. Let's see how players adapt to this. Spectre might just still be very good.
Hero Watch List of Minor buffs and nerfs this Patch
Undying– The damage amp on his ultimate can be dangerous in team fights this patch.
Underlord– Yes! The attack range increase, firestorm allowing to farm ancients and a buff on atrophy aura as well. Would be an interesting Dota 2 meta for mid underlord and the patch.
Sven– Seems the rework might be a slight buff to the hero but we are not sure. Would he get more changes this patch and a place in the meta?
Bloodseeker- Another cool rework that we are not sure about. Seems cool in theory and looks like a good nerf, the practical application of it might be too constricted though. Might become a huge part of the meta and 7.27b patch.