Disney+ is an on-demand, ad-free streaming service made by The Walt Disney Company. With Disney+, you can watch various Disney movies and series from your device. The streaming service has the facility of unlimited downloads so that you can watch the content anytime and anywhere. Disney+ content comes from Walt Disney Studios and Walt Disney Television's biggest names. this includes Disney, Pixar, Marvel, Star Wars, National Geographic, and 20th Century Fox.
Disney+ is the best service for Disney fans and it doesn't matter if they love to see Marvel and animated content. It is completely suitable for families with children who wish to immerse themselves in the huge world of Disney. If you are someone who ends up searching for Disney+ shows and movies on other streaming services, you might wish to consider subscribing to Disney+ since it has all the content in one convenient place. Disney+ has been priced at $6.99 per month or $69.99 per year.
This particular price includes many hours of entertainment spanning various genres and interests. The best thing here is that it is ad-free. Disney+ was launched on 12th November 2019 and has received a positive response for its wide library of various content.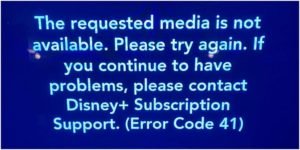 Recently, Fire TV Stick users have complained about a problem related to Disney+. Users said that they have been experiencing an error called Error Code 41. Users face buffering issues whenever this error appears on the screen. Users said that every time they select any content and open it for watching, it keeps on buffering for a few seconds or minutes, and suddenly, the Error Code 41 pops up on the screen. Some users said that the error appeared only in terms of some specific shows and episodes.
Users have expressed their frustrations saying that they have tried to contact Disney+ customer support for this but have not yet received any response. So, here are a few things you can try to fix the issue by yourself –
Try to play another video and ensure that it is not a digital rights issue.
Switch off and restart your Fire TV Stick.
The power circle your wireless modem, router, or gateway.
Disable IPV6 within your router.
Temporarily connect Disney Plus through a mobile hotspot and swap back to your in-home network.