Destiny 2 is a free-to-play first-person shooter online multiplayer video game developed by Bungie. The game was launched for PlayStation 4 and Xbox One on September 6, 2017, and later on Microsoft Windows. The game is set in a mythical solar system and has features PvE, PvP and other modes. It has four post-release contents out of which Forsaken and Shadowkeep are the large expansion.
Bungie is rolling out a new update for Destiny 2 today. The new update brings the patch version 2.8.0, with which developers aim to bring new game features and tons of improvements and bug-fixes.
The new update for Destiny 2 carrying patch 2.8.0 will roll out today on all platforms after the server maintenance schedule. Stay tuned, we will keep you updated with the news.
The developers have posted an official schedule for the Destiny 2 update 2.8. According to the official tweet by Bungie Help, the server will undergo maintenance from 08:00 AM PST. The new patch 2.8 will be made available to the players after 10 AM PST.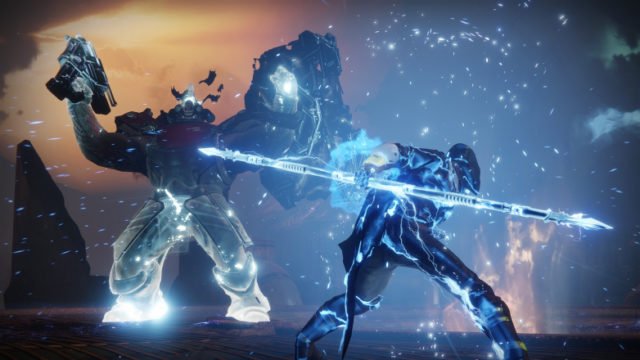 The new update brings changes to the Weapons, Clan, Abilities and a lot more. For finer details on the same, you can check out the official patch notes released by Bungie.
Destiny 2 Update 2.8.0 Patch Notes
COMBAT SYSTEMS

ABILITIES

Titan

Barricade

Raised Barricade health from 500 to 600
Barricades now take extra damage from special-ammo weapons, anti-barrier weapons, and certain power weapons
The following weapons do 30% extra damage to Barricades

Sniper Rifles
Grenade Launchers
Linear Fusion Rifles
Machine Guns
Trace Rifles
Anti-Barrier Weapons

The following weapons do 60% extra damage to Barricades

Shoulder Charges (Hammer Strike, Seismic Strike, Shield Bash)

Lunge auto-targeting angle decreased by 50%
Targeted lunge movement distance decreased from 6m to 5.5m
Untargeted lunge movement distance increased from 4.5m to 5.5m
Bonus damage vs. low-tier PvE combatants reduced by 20%

Striker
Increased cost of light attack from 11.5% to 12.5% (Bottom Tree increased from 3% to 4.5%)
Reduced cost of heavy attack from 25% to 21%

Code of the Juggernaut

Frontal Assault

Reduced duration from 15 to 12 seconds
No longer increases weapon equip speed
Weapon stability bonus decreased from 75 to 44

Code of the Missile

Ballistic Slam

Increased knockback significantly
Now procs inertia override on hit
Bonus damage vs. low-tier PvE combatants reduced by 20%

Inertia Override

Added 0.5 second activation delay
Note: This change was made to allow the Titan to make the most of its duration
Ability indicator now displays time remaining

Thundercrash

Increased damage resistance while in super from 49% to 53%
Made flight speed more consistent
Increased detonation damage from 3200 to 3900

Impact Conversion

Reduced super-energy gain per hit from 4% to 3%

Sunbreaker

Code of the Devastator

Burning Maul

Reduced idle super duration from 28 seconds to 25 seconds
Heavy-slam explosion is now less likely to deal damage through cover
Added damage falloff to heavy-slam explosion
Fixed an issue in which ground follow attacks can go through walls

Hunter

Gunslinger

Tripmine Grenade

Can now stick to enemy players and combatants
Reduced base damage to 140
Damage remains at 160 when used with Young Ahamkara's Spine exotic

Way of a Thousand Cuts

Blade Barrage

Knife impact damage increased from 35 to 48
Reduced knife detonation radius from 5m to 3m
Should no longer apply large amounts of knockback to tanky combatants

Way of the Sharpshooter

Weighted Knife

Reduced tracking strength
Changed tracking style to reduce the chance of the knife being pulled away from its intended target

Arcstrider

General

Fixed an issue in which players in Arcstaff were able to dodge infinitely even after the super energy has been depleted

Way of the Current

Tempest Strike

Reduced auto-targeting angle by 50%
Bonus damage vs. low-tier PvE combatants reduced by 20%

Way of the Wind

Focused Breathing

Increased activation delay while sprinting from 0.25 seconds to 1.0 second
Reduced dodge recharge rate bonus by 10%

Combat Meditation

Reduced grenade and melee recharge rate increase while health is critical from 500% to 400%

Lightning Reflexes

Reduced Damage Reduction during dodge in PvP from 40% to 32%

Nightstalker

Way of the Pathfinder

Moebius Quiver

Increased time limit from 8 seconds to 10 seconds
Increased time limit from 10 seconds to 12 seconds when used with Orpheus Rig

Combat Provision

Increased melee recharge on grenade damage from 6% to 8%
Increased grenade recharge when you turn an ally invisible from 17.5% to 24%

Warlock

Basic Melee

Extended melee range from 4.5m to 5.5m
The Warlock melee range is now one meter longer than Titan and Hunter melees
All Warlock melee abilities that had a 4.5m range now have a 5.5m range
Note: Ophidian Aspect melee range is unchanged at 6.5m

Stormcaller

Stormtrance

Damage ramp-up now falls off more slowly after releasing attack button

Attunement of Conduction

Arc Web

Reduced chain damage from 36 to 27
Reduced grenade energy recharge on chain
3% to 2% in PvE
10% to 8% in PvP
Reduced chain range from 12m to 11m

Ionic Blink

Increased super-energy cost from 4% to 6%
Reduced range of blink from 4.5m to 4.2m

Chain Lightning Melee

Reduced chain damage from 31 to 27

Attunement of Control

Ionic Trace

Increased leyline height so its more easily collected while airborne
Increased leyline travel speed by 14%
Increased leyline turn speed by 83%

Chaos Reach

Increased beam endpoint radius from 2m to 2.4m
Reduced intensity of VFX to improve visibility

Attunement of the Elements

Electrostatic Surge

Now correctly increases class-ability regen when near allies
Note: Was mistakenly increasing Super regen previously

Voidwalker

Attunement of Fission

Handheld Supernova

Reduced range by 20%
Increased activation time by 0.6 seconds
Reduced hold time from 3.5 seconds to 2.5 seconds
Bolt explosion now does self damage
Tightened horizontal spread of bolts by 25%
Reduced bolt explosion radius from 3m to 2.5m

Nova Warp

Increased damage reduction from 49% to 51%
Increased idle super duration from 22 seconds to 24 seconds
Reduced cost of Dark Blink by 12.5%

Dark Matter

Increased grenade recharge on kill from 10% to 14%

Attunement of Hunger

Vortex

Increased linger duration from 5 seconds to 7 seconds
Reduced linger damage per tick from 27 to 24
Increased projectile speed by 33%
Nova Bomb kills now proc Devour

Devour

Increased Devour duration from 10 seconds to 11 seconds
Insatiable
Kills now grant between 16% and 24% grenade energy depending on the tier of enemy killed
Player kills are 24%

Dawnblade

Attunement of Sky

Heat Rises
Fixed an issue in which Heat Rises buff was causing combatants to ignore you

Icarus Dash

Fixed an issue in which Icarus Dash cooldown was interfering with the Daybreak dodge
ARMOR

Increased the number of armor sets available from world drops to 11 sets, up from 3.

Several sets that were previously unavailable or extremely difficult to come by are now available as world drops.

Armor Energy

You can now change the energy type of any piece of armor to either of the other two energy types directly from the armor piece's inspection screen by hovering the cursor over the armor's energy icon.

The cost of changing the armor to another energy type at energy value 1 is 1 Upgrade Module.
You can also change the armor to another energy type at the equivalent energy value to its current energy value. The cost for doing so is 1 Upgrade Module + the aggregate cost of upgrading from energy value 1 to its current energy value.

Armor Stats

Prime Engrams will now more reliably drop armor with higher overall stat rolls and spikier distributions.
Exotic armor will now more reliably drop with higher overall stat rolls
Legendary armor now has an improved chance of receiving higher overall stat rolls, though low rolls will still be present

Armor Mods

The seasonal armor mod socket (i.e. Undying Mods, Dawn Mods) can now equip mods released during the season in which it was released, plus the previous season and the following season.

For example, armor with the Dawn Mod socket (from Season 9) can now equip Dawn Mods, Undying Mods (from Season 8), and Worthy Mods (from Season 10)

The Hands-On mod now provides energy on projectile melee kills (such as the hunter's throwing knife)
Enhanced armor mods have been added to cover all weapon types for all armor mods that have an enhanced version.

Exotics

Hunter

Assassin's Cowl

The invisibility and healing effect now triggers on powered melee (both against combatants and Guardians) and finishers
The duration of the invisibility granted by this exotic increases based on the tier of the enemy defeated
Arc Staff kills no longer activate this perk

FROST-EE5

Changed the ability regeneration so that it no longer stacks multiplicatively with other class ability energy generating perks.

Khepri's Sting

All of your smoke bombs deal 150% damage while wearing this exotic

Orpheus Rigs

The maximum amount of Super you can regain from this exotic with a single use of Shadowshot is 50%.

Young Ahamkara's Spine

Increases the explosion radius for tripmines by 14%.

Titan

Ashen Wake

Killing an enemy with a Fusion Grenade while wearing this exotic now refunds grenade energy. The amount of grenade energy refunded scales based on the tier of enemy killed.

Anteus Wards

The shield created during a slide no longer allows chip damage through

Doomfang Pauldrons

Fixed an issue where Doomfang Pauldrons would sometimes grant Super energy from melee kills while in your Super

Dunemarchers

Increase the radius of static charge to 20 meters, up from 12 meters.

Mk. 44 Stand Asides

Reduced the delay from the start of sprinting until the overshield comes in to 0.5 seconds, down from 1.25 seconds.

One-Eyed Mask

The target marking from this exotic has been replaced with target highlighting, eliminating the ability to detect targets through walls
No longer provides a damage bonus when defeating your marked target
Restored the previous overshield granted by defeating your marked target, which now has a duration of 6 seconds (down from 8)

Severance Enclosure

The explosion now triggers on powered melee (both against combatants and Guardians) and finishers
The radius and damage of the explosion created by this exotic increases based on the tier of the enemy defeated

Warlock

Apotheosis Veil

This exotic is now guaranteed to drop with a minimum +16 to Intellect.

Contraverse Hold

Reduced the damage reduction granted by this exotic to 20%, down from 40%

Sanguine Alchemy

Completely redesigned with a new perk, Blood Magic, that allows the wearer to pause the countdown timer of any rift they are standing in by getting weapon kills, extending the rift's duration.

Ophidian Aspects

Now increases the lunge range of all Warlock melee attacks, even if the ability is on cooldown.

Verity's Brow

The buff provided by this exotic now increases your grenade damage by 10% per stack
The buff to allies' grenade recharge rates now kicks in when you cast your grenade
The wearer of this exotic now receives buff text notification indicating how many allies are currently benefiting from your increased grenade recharge
Check out the entire patch notes on the official website. READ NOW