Dead by Daylight is one of the most renowned free-to-play games available on almost every platform in the world. However, just like every other online game, Dead by Daylight is also not immune to unexpected bugs and issues. Having said that, many players are facing an issue where the game crashes whenever they play as Legion. If you are also facing this issue and are looking for a solution, then you are at the right place. Carry on reading this guide to learn if a fix for this issue is available yet.
What is Legion?
Legion is a set of killer characters that are defined in DBD that players can choose if they are playing as a killer. Legion characters are considered the best and easiest killers to play as. Their basic attacking stats and overall utility kit are well-suited for beginners. Frank, Julie, Susie, and Joey are the characters that belong to Legion. Since the Legion is one of the most played killer characters in the game, resolving the game crashing issue that occurs when playing as this killer becomes more crucial for the players. So, coming back to our main topic, let's find out how to resolve this issue.
Dead By Daylight Crashing for Legion Players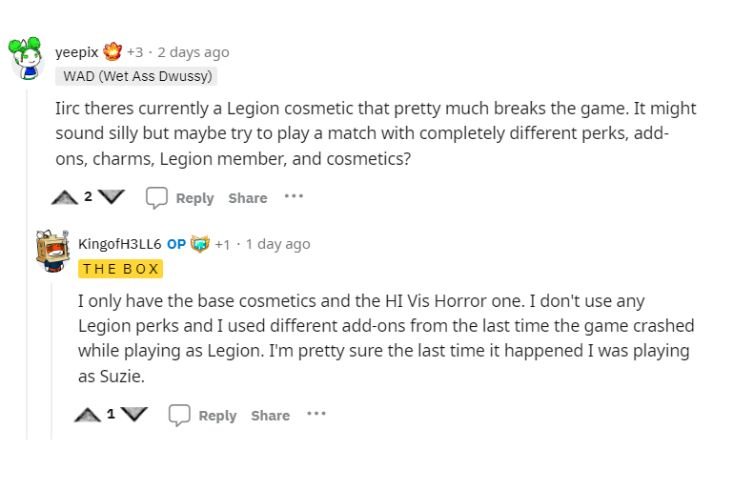 The crashing issue in the game is encountered by players as soon as they are switching to The Legion. All other characters in the game such as The Knight, Demo, Nemmy, etc. don't trigger any crashes. Many players believe that this issue has started occurring due to a Legion cosmetic, however, it is not confirmed though. This issue has been occurring to a lot of players but still, it is yet to reach the ears of the developers. Since many are reporting the same, there is a high chance that it would eventually be reaching the developers' notice and a fix for the same would be released soon. However, you can try some generic workarounds for the time being:
1) Verify Game Files
Verifying game files is one of the basic methods to perform when you run into an unexpected issue. To do the same, go to Steam > Dead By Daylight (right-click)> Properties > Local Files > Verify Integrity of Game Files. After the scan, launch the game, pick Legion, and then check if the it crashes.
2) Check Internet Connection
Sometimes, if your internet connection is not working or is not stable, then also you might this issue. To ensure that you have an active internet connection, you can use the Speedtest applications like Ookla or can switch to another internet connection. However, if you are facing stability issues, you can try using an Ethernet cable.
3) Reinstall the game
If none of the above-mentioned methods helped you, you can reinstall the game completely. After a fresh reinstall, the issue might not occur again.
This brings us to the end of this guide. It was everything about the Dead By Daylight Crashing for Legion Players issue. If you found it helpful, share it with your friends.
Related: Dead by Daylight Chapter 28 Release Date: When is it coming out