As we all know, Cyberpunk 2077 is finally released after 7 years of development. The game itself is a great monument of both excellence and hard work. With the new visual enhancements that Cyberpunk supports, even the best hardware can sometimes fail to process the number of details that the game wants to show and deliver.
So, here we are providing you with the best FPS settings for your PC that can help you maintain a sweet spot between excellent graphics and superior performance without putting much pressure on your PC.
Cyberpunk 2077- Best Settings for FPS and quality
Cyberpunk has tons of graphics settings that allow the player to choose from different presets and individual options. All the best settings for higher fps in-game are provided below-
First, go to the Gameplay Section in the Setting Option
Then find the Performance Section. There you will see a setting called "Crowd Density". Set it down to Low. This setting drastically affects the in-game FPS as the number of people around you will be less. Because of this, the GPU has to render less data as less NPC's are around you which makes it easier to provide better FPS
After that, go to Video settings and set the Max FPS option to ON and change the Value option to either 144 or 240 for maximum performance
These were the prerequisites that you needed to change before jumping into the Graphics section. The settings for max performances are given below
Set the Quick Preset option to "Custom". Then make sure all the options of the Basic section are turned off. These are just not too important for an RPG game as it takes up too much VRAM and reduces performance to an extent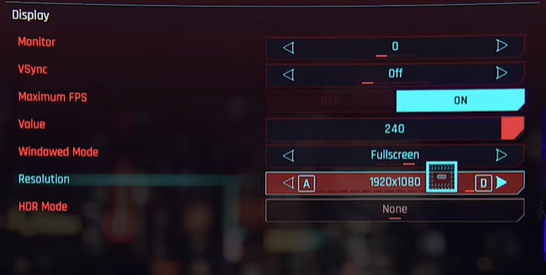 Now head over to the Advanced section and turn off the "Contact Shadow" option as well
Improved Facial Lighting Geometry can be kept default as it doesn't affect the performance so much
Set Anisotroping to 16x as it will increase the visual quality details without causing much FPS decrease
Other important advanced settings for optimal performance are
Local Shadow Mesh Quality- Medium
Local Shadow Quality- Medium
Cascaded Shadow Range- Medium
Cascaded Shadow Resolution- Low
Distant Shadow Resolution- Low
Volumetric Fog Resolution- Low
Volumetric Cloud Quality-  Off
Max Dynamic Decals- Medium
Screen Space Reflection Quality- Off
Subsurface Scattering Quality- Medium
Ambient Occlusion- Low
Color Precision- Medium
Mirror Quality- Medium
Level of Detail- High
Now after this, you will find the Ray Tracing option. If you have a GPU that supports Ray tracing, then turning this on will give an impressive amount of visual changes to the game. But turning this on can affect the performance of the game as well. So, if you have a powerful GPU, at least a 2070 or any higher then you might consider turning this feature on and enjoy the richness of visuals it offers.
Next comes DLSS. It uses AI to render frames that are similar which can improve FPS greatly. But the sharpness of the game's visuals decreases with a lower level of DLSS mode. So either set it to "Off" or change it to "Quality".
There you have it, the optimal settings for max FPS and quality in Cyberpunk 2077. Enjoy!