Following the Warzone Season 1 trailer, Activision made an announcement about Gulag and the BR's new game mode. Other content can be found in this article! Activision finally says more about the integration of Warzone in Black Ops Cold War for its new map as well as the gulag. Warzone will be "transferred" to Call of Duty Black Ops Cold War from December 16, and here is all the information Activision provides.
The New Map – Rebirth Island
An illicit Soviet base was attacked and closed by the CIA in 1968, during which operator Russell Adler forcibly grabbed and interrogated base commander Vikhor "Stitch" Kuzmin. The facility was rebuilt and returned to service by Stitch in 1984 for one purpose: the creation and testing of the deadly gas Nova 6.
Part prison, part bioweapons manufacturing and testing, the entire island has dozens of places to explore, including laboratories, barracks, decontamination areas, and a hilltop prison block where untold acts have been perpetrated.
Expect intense, close-up action with a style of play similar to Warzone's Mini BR mode as Rebirth Island arrives in Warzone. Planned playlists include trios and quads with lower player counts than Verdansk, increasing the action and intensity.
To celebrate this new Warzone map experience, look forward to an intense and rewarding limited-time event featuring 16 challenges for those coming to Renaissance Island for the first time. Earn business cards, charms, emblems, stickers, a special LMG "Noxious" plan, plus additional secrets to discover!
A new Gulag in Verdansk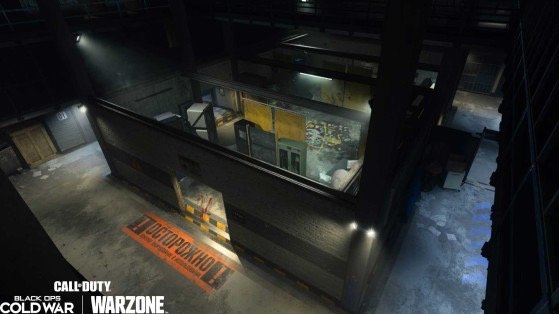 It's time to get out of the Gulag showers. The prisoners of Warzone are now dragged into an interrogation room, tied to a chair, and thrown into a brand new Gulag where the 1v1 combat rules are similar, but the arena is completely different! Watch from the spectator port, pulverize, hit or throw stones at opponents before entering the secret training center below: An instantly familiar new confrontation in a facsimile of Nuketown built by the Soviets who built the town of Amerika from Black Ops Cold War!
The design is a makeshift replica of the original Nuketown map layout with the house interiors and the backyard boarded up, focusing the duel on a confined central arena. Prisoners now have to sneak through or around the parked bus and bogus truck to reach their target or take a risk by climbing one of the house's awnings to get solid sightlines across the area. As usual, the last operator standing, or whoever catches the central extra-time flag, has a second chance in Verdansk.
The New Gulag on Rebirth Island
A second new Gulag is coming to Warzone! Deep below the surface of the Rebirth Island prison block, prisoners are drawn into a disturbing new arena during traditional Battle Royale modes. This secret location has a dark history, as some detainees were experimented with as part of Perseus' plot to turn the tide of the Cold War.
This new 1v1 experience centers around the chamber in question, with the prisoners of Warzone starting at the end of one of two hallways parallel to the central chamber. While these lanes offer a quick route through the ground, both have a metal detector that goes off whenever an operator passes, adding an extra element of strategy to this intense duel for survival. And remember one thing: your fellow inmates can still throw stones in the arena while waiting for their shot at a second chance.
New Mode: Resurgence
Do you think you're dead? Well it's not over yet: this new game mode for Rebirth Island focuses on respawning as the key to victory. Collect the caches and equip yourself normally, hunt down the other squads and focus on taking out each of them, otherwise they may reappear and take revenge!
The Gulag is closed (probably for deep fumigation).
After taking out an enemy, you will gain a moment of extreme clarity on the location of the rest of the enemy team. Now finish them!
If you are downcast, there is no time for a Gulag battle in this game mode! Instead, watch your teammates and hope they survive long enough as the rebirth countdown hits zero, after which you'll automatically fall back into the fray.
New vehicle: Attack helicopter
Bring death from above to Verdansk and Renaissance Island with the Attack Helicopter, the latest addition to the Warzone vehicle fleet! This air threat is built to similar specifications to the regular helicopter, but with one major exception: a belt-powered minigun is mounted on the helicopter's two side rails which can be controlled by another member of the aircraft. team. Finding an attack helicopter is not only a boon for those looking for a fast travel option, but also raining dozens of bullets on other squads without the need to use a primary or secondary weapon.