This year the gamers all over the world got the mobile version of the famous first-person shooter franchise Call of Duty. Yes, you are right; we are talking about the Call of Duty: Mobile. The game was launched on October 1, 2019, and became the most popular game on the mobile platform in no time.
Kudos to folks at Tencent Games, who have successfully brought the game on the Android and iOS mobile platforms. And credit also goes to the game developers too, who have been releasing new content in the game like the new modes, challenges, weapons skins with the updates which eventually maintain the engagement of the players.
Well, the creators are now brining the all-new season 4 update. The new update will be bringing the all-new map named Meltdown, new weapon skins, new operators, new weapons and a lot more.
We will be mentioning the official patch notes below. Make sure to check it out for finer details on the same. Also, the new update will start rolling out on 26 March for the global version.
Call of Duty: Mobile Season 4 Patch Notes –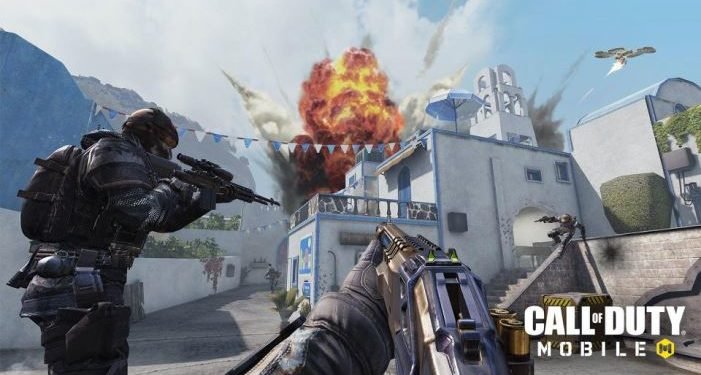 [Mode Ranked]


Season 4 Ranked Mode will start from April 2020 to June 2020

New season ranked fashion prize
The theme of new weapons and equipment "Industrial Revolution" is now present for Ranked Season 4, including Epic Man-o-War weapons and Epic Ruin Characters
Improved playing experience in Ranking Mode
Improved image and particle effects in detail from Ranked Multiplayer mode
Improved score revenue rules in Multiplayer mode, the rating is determined by the player's performance
Improved matchmaking rules; Matchmaking is now more trying to find players with skills that are closer to players.
Map changes in Ranked Multiplayer mode: Scrapyard will be deleted temporarily, Meltdown will be added to the map list. Meltdown Map is available in Bomb Mission, Domination and Team Deathmatch modes.
Increased XP rank earnings in Battle Royale mode, reducing XP rank penalties for players with good performance.
Multiplayer

Game Mode

[New Mode]

New mode, Gun Game: Team Fight. Much like Gun Game mode but now with a team. Kill enemies or do 2 assists to increase the progress of your weapon. Achieve the highest progress and kill the enemy with a knife or be the first team to reach 60 kills to win in this mode
New 2v2 Showdown mode. Two players work together, fighting each other using weapons that are determined by the system and keep changing every 2 rounds. Be the first to eliminate 2 opponents or capture territory if you enter extra time to win the match. The first team to get 6 wins will be declared victorious. There is no respawn and HP regeneration in this mode.

[Optimization]

Limited Mode: Prop Hunt
Change the total number of rounds from 3 rounds to 2 rounds. The time for each round is added.
Players can now join in the middle of the game while still in the first round
Optimizes initial scores for players who join in the middle of a match
Practive Mode Vs. AI: This mode will not bring other players into this mode anymore. Now you can use this mode to try everything you want.
Frontline Mode & Practice Vs. AI: Duration of invulnerability after respawn changes to 4 seconds.
Gun Game Mode will have a new weapon to play on this patch.
Sniper Only Mode: The Sniper Rifle Scope will be changed to the default Scope.

Easter Egg

You can become an Easter Egg at Prop Hunt for this year's Easter celebration!

Folder

[New Folder]

New map: Meltdown of Call of Duty: Black Ops 2. Fighting in the middle of a nuclear power plant. This is currently the newest Multiplayer map on CODM!
Meltdown is available in Bomb Mission, Domination, Team Deathmatch, Sniper Only, Gun Game: Team Fight, Gun Game and Free For All modes. 7 total modes.
Weapon

[New Item]

Shock RC can also only be obtained from the Battle Pass Steel Legion prize. Shock RC will search for nearby enemies and use the electricity it stores to stop the opponent's movements

[Weapon Adjustment]

Reduced stability and added horizontal recoil for S36
Reduction in speed of firing LMG weapon types when moving
Reduced stability and melee damage for MSMC
Melee damage reduction for Type 25
Added flinch effect when shot by Locus, DL Q33 and Arctic .50 weapons
Significantly improved stability and shooting range for ASM10
Reduction in shooting range for LK24
Added shooting range for BK57
Added shooting range for ICR-1
Increases the stability of AK47 and Man-O-War

[Optimization]

Improved when sliding and jumping.

[Bug fix]

Bug fixes in FFA where the Trophy System can destroy its own projectiles
Sound bug fixes for DL ​​Q33 – Holiday weapons
Improvements to the wrong announcer sound when team members use Predator Missile
Fixed a bug where the player still gets a Kill bonus when using VTOL in the Hardpoint zone
Fixed announcer sound bug that often occurs in Domination mode.
Battle Royale

[New game mode]

FPP Warfare Mode: Join 20v20 Warfare mode where you can only use views from First Person. This mode will only be open temporarily, keep an eye on our social media for the opening date of this mode.

Easter Egg

When Easter starts, there will be changes in the Circus area!
Don't forget to break the Easter Egg inside the Isolated folder later!

The weapon

[New Weapons]

The addition of UL736 weapons (LMG), using 5.56 ammo bullets
Add HS2126 (Shotgun) weapon, using 12-gauge ammo bullets

Bug Fixes & Optimization

Bug fix where players can't use Ax and Baseball Bat on BR
We have changed the UI for melee weapons; Players are required to use Melee weapons.