Ark: Survival Evolved is a massive open-world survival game that offers players the opportunity to explore a stunningly detailed and diverse world full of prehistoric creatures. One of the most exciting aspects of the game is the underwater environment, which is home to an entirely different set of creatures and challenges. While the base game offers a lot of content, players can enhance their experience with mods, and there are some fantastic mods out there that are specifically designed for the underwater environment. In this article, we'll be taking a look at the five best underwater mods for Ark: Survival Evolved that you should definitely check out if you want to explore the depths of the game's oceans.
One of the reasons why Ark: Survival Evolved is so popular is its modding community. Mods can enhance the gameplay experience and introduce new content, mechanics, and challenges to the game. The mods can range from simple quality-of-life improvements to full game overhauls, making Ark an ever-evolving game. As there are thousands of mods available for Ark Survival, players can easily get overwhelmed while choosing the ones that best suit their preferences. However, if you are an enthusiast of underwater gameplay, you have come to the right place. In this article, we have rounded up the five best underwater mods for Ark Survival that will not only enhance your experience but also give you an immersive feeling of exploring the depths of the ocean. These mods are diverse in terms of features, challenges, and rewards and are sure to add a new dimension to your underwater adventures in Ark Survival.
Best Ark Survival Evolved mods for underwater content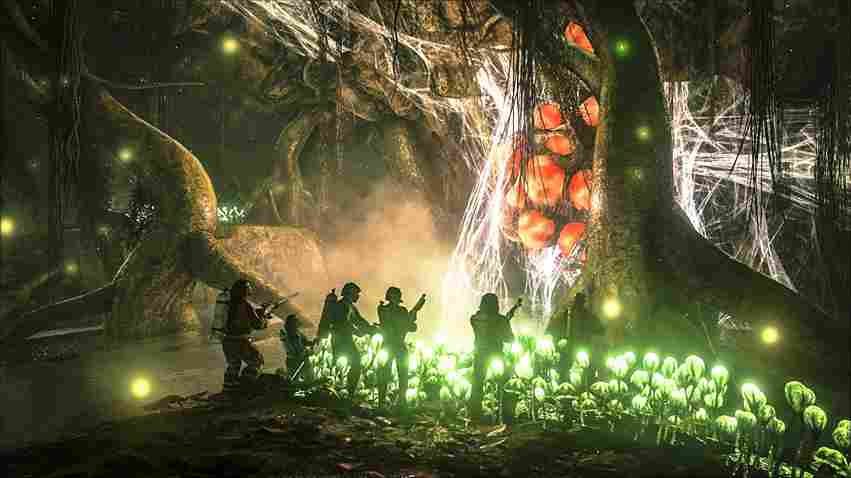 Ark Survival Evolved is constantly evolving and expanding, providing players with an ever-growing selection of mods, including new creatures and crafting options. If you enjoy exploring the game's underwater environments, we've gathered a list of the top 5 mods that add to the underwater experience of Ark. You can find the official Steam page for each mod, where you can learn more and download them.
Versatile Raft Mod
Versatile Raft is a mod that adds several types of rafts that are faster, can reverse, and support more buildings than the standard raft in the game. The mod includes five different types of rafts, including the Raft Plus, Speed Boat, Speed Hunter Boat, Battleship, and Mobile Base Raft. Each raft has different features, costs different materials, and has a different number of structures that can be built on it. The Mobile Base Raft is the largest, with a maximum of 600 structures that can be built on it, while the Speed Boat is the fastest but can only have eight structures built on it. Overall, this mod adds versatility and customization to the rafting experience in Ark. You can check the mod by clicking here.
Advanced Rafts Mod
The Advanced Rafts mod adds unique rafts with customizations such as inventory and decoration items, as well as a camera selection and horn options. The mod includes the following rafts: the Advanced Raft, Advanced Raft(Large), Advanced Dinghy, Advanced Cog, Advanced Long Ship, and Advanced Galleon, each with its own unique designs and features. The Advanced Galleon is the largest and most decorated raft with a lot of space and large sails. To download this mod, or get information on all its features, head here.
Crystal Clear Mod
The Crystal Clear mod in Ark is a game-changer. It takes the already breathtaking water environments in the game and makes them even more stunning. The murky depths are now crystal clear, allowing you to see every detail of the underwater world. The ripples on the surface of the water are now visible from far away, making it easy to spot water creatures or resources. The mod not only enhances the visual experience but also makes it easier to navigate and explore the depths of the ocean. You can download the mod from here.
The UA Creatures Mod
Are you tired of the relentless annoyance of wild creatures in Ark? Do you dread the constant threat of seagulls stealing your precious resources or jellyfish stunning you out of nowhere? Then UA Creatures, short for Unannoying Creatures Mod is the mod for you! With this mod, you can finally say goodbye to all the frustrating abilities of wild creatures, such as dismounting you, destroying your rafts, and stealing your items. You can now explore the vast waters of Ark with peace of mind, knowing that you won't be constantly harassed by wildlife. Click here to know more about this mod.
Additional Creatures Mod
As the name suggests, in this incredible mod, over 20 new sea creatures will be been added to the game that are both high quality and tameable. Not only are they fun to play with, but unlike many of the sea creatures that already exist in the game, they aren't overly annoying in the wild. Along with the Fiddler Crab, Anomalocaris, Eastmanosteus, Great Hammerhead Shark, and Giant Octopus, there are a plethora of other new creatures that have been added, each with its unique abilities and attributes. If you want to know more about this mod, click here.
And that is our list of the best mods that add to the underwater content of Ark Survival Evolved. We hope that you found some interesting and exciting mods to enhance your gameplay experience. If you want to stay up to date with the latest news, guides, and reviews about video games, don't forget to follow Digistatement. Happy gaming!