After taking us to ancient Egypt and assisting in the founding of the Assassins order, then to Ancient Greece to follow the adventures of a misthios, Ubisoft now takes us on a trip to Norway in the time of the Vikings with Assassin's Creed Valhalla. Here is everything we know about the game while waiting for its official release at the end of the year on Xbox Series X, Xbox One, PlayStation 5, PlayStation 4, Stadia and on PC exclusively on the Epic Games Store and the Ubisoft Store. This article will be updated as new information becomes available.
Characters in Valhalla
Just like for Odyssey, Assassin's Creed Valhalla gives us the opportunity to embody a man or a woman. Unlike the previous game where only Kassandra was the canon character in history, here both sexes will be.
We will play Eivor, Viking warlord who will find himself immersed in the heart of the conflict between the Assassins and the Order of the Ancients. We will explore Norway and England, but we also know that other regions are on the program. Just like in the last two titles of the saga, it will be possible to personalize your warrior. In addition to his clothes, we can modify his tattoos or even the hairiness of his beard.
Story/Plot of the Game
This is something we have not seen since Assassin's Creed 3: it will again be possible to manage your village in Assassin's Creed Valhalla. We will be able to enlarge and expand our city thanks to the resources recovered during looting. Thus, new missions or talents will be available such as improving his equipment by a blacksmith. The village will be the narrative heart of the game according to producer Julien Laferrière.
From now on, the quest system will operate in the form of narrative arcs which will begin and end in the village. During our adventure, we will meet many characters and some will then join our clan. We will thus watch his community grow and develop, we will see the consequences of certain choices as new alliances forged by marriage. It is also in this village that we will be able to live certain romances planned in the game.
Redesigned Combat System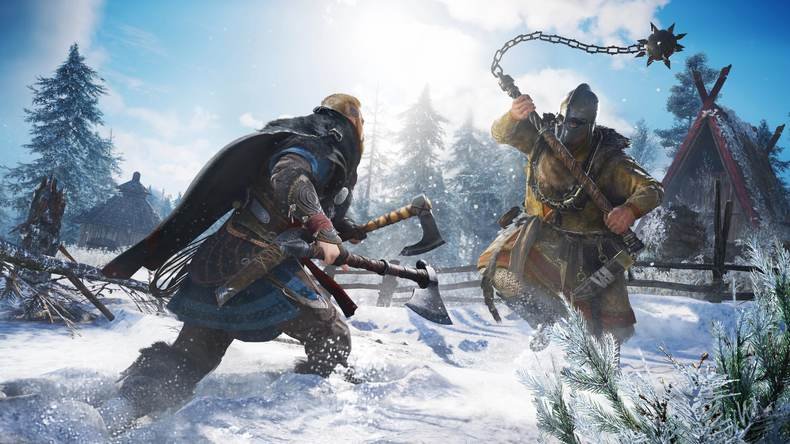 Many players regretted its absence in the last episode, but the shield is back. In addition to this, it will be possible to use the sword, the flail, the war hammer, the scramasaxe and the lance. The secret blade is also back as seen in the announcement trailer. On the other hand, we do not yet know if it will be usable in combat or only to discretely assassinate its targets.
New for this episode, the developers wanted to encourage players to keep the weapons they find in order to improve them. For this, they added a weapon collection mechanism. The skills tree has also been revised and will offer new techniques and skills. As in the last games, it will be possible to specialize in a single branch or seek more versatility by investing in each. We will also find various enemies with their own way of fighting and some may form tandems to face us. Finally, it will be possible to constitute a group of warriors who will come to fight alongside us. We will not be able to control them directly, but it will be possible to give them orders.
World of Valhalla
Between Scandinavia and England, the lands are vast and their exploration long. To help us, we will have land mounts like horses or giant wolves if we refer to the bonuses of the Ultimate edition. We can also assume that many more (more or less fantastic) will be added later as was the case in Odyssey and Origins.
You will also have your Drakkar to navigate along the English coast or along rivers. No naval battles in the program however, the boats not being equipped with weapons and being used only for the Vikings of means of fast displacement to launch their raids. Finally, we will also find the system implemented from Origins with a feathered companion to take a look around and target its enemies. However, this time, it will not be an eagle, but a crow.
The mythological part will once again be present for this new episode. In the announcement trailer for Assassin's Creed Valhalla, we see a man who then disappears as a crow. The hero then chants his name: Odin. In addition, the wolf mount available in the Ultimate content pack should be a giant wolf (difficult to ride a simple wolf), a creature from Norse mythology. It is therefore very likely that like the Minotaur or the Sphinx, it is possible to confront several beasts of Nordic folklore.
No multiplayer in Assassin's Creed Valhalla
Many rumours announced the return of a cooperative multiplayer mode as it was in Assassin's Creed Unity. This will not be the case, Assassin's Creed Valhalla will remain a solo game. However, Ubisoft said there will still be some social elements to encourage players to share their progress and creativity. If the official site is to be believed, it will be possible to recruit Viking mercenaries designed by other players or to create and personalize one's own in order to share it online.
Layla still there
You could imagine it a bit since her story was not over, Layla will once again be playable in the "present" part of the game. The Isus of the First Civilization will also be there. According to Laferrière, these phases in modern times will be different from what we have already had in the past.
Release Date
The Assassin's Creed Valhalla release date hasn't actually been officially stated, but Ubisoft has said that the game will be releasing sometime in the Holiday of this year. We'll likely be waiting a bit longer, however, to find out the actual full release date.
You can watch the trailer of Valhalla here: