Apple TV refers to a digital media player and microconsole. It is developed and sold by Apple Inc. It is a small network appliance and entertainment device that receives digital data for visual and audio content like music, video, video games or the screen display of various other devices. You can then play it on a connected television set or other video display. You must remember that Apple TV is an HDMI-compliant source device. In order to see it, it must be connected to an enhanced-definition or high-definition widescreen television through an HDMI cable.
It runs software applications preinstalled in the system software or the models running on tvOS. The apps can be downloaded from Apple's tvOS App Store with a Wi-Fi connection. The major online content sources of Apple TV apps includes subscription services for streaming television and film, cable and broadcast networks through TV Everywhere and major sports leagues.
Apple TV's Wi-Fi capability can be used for receiving content purchased and rented directly from Apple's iTunes Store, transmitted from other nearby iDevices through AirPlay or shared from macOS or Windows computers that run on iTunes.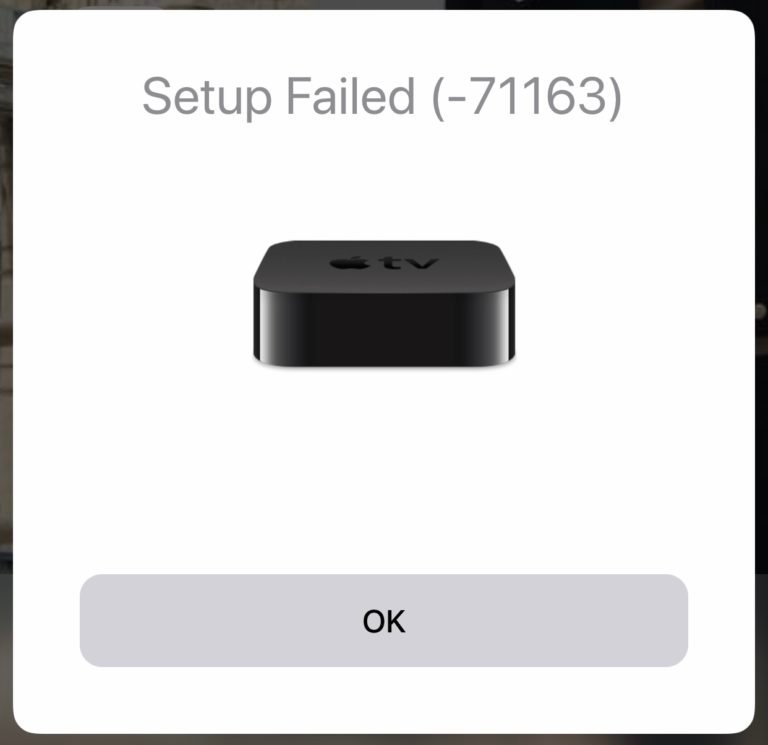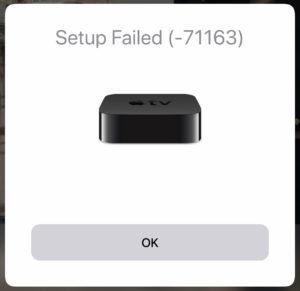 Recently users have complained about an issue related to Apple TV. They said that they have been experiencing an error. It is the error code 71163 and appears when Apple TV's homekit setup fails. A user complained that when he tries to configure his AirPlay 2 connection between Apple TV 4K and iPad Air 2 (iOS 11.4) by Bluetooth, he gets an error code which says 71163. Another user said that he has been trying to connect his iPhone XS Max to Apple TV and every time he gets the error 71163.
Some users said that the setup was working fine since the beginning. But the error 71163 has suddenly started to pop up on their devices. Users have tried a lot of things to fix this problem but nothing has worked out till now. In case if you are facing a similar issue, then there are a few things you can try to fix it by yourself –
Sign out of your Apple ID on the device you are using to set up Apple TV. Sign back in with the Apple ID and try to set up again.
Reset your Apple TV settings to factory default and try to configure again.
Delete the Home app on your iPhone, reinstall it and try to set up again.