Note: we are updating this post continuously. The new updates are being added at the bottom.
---
The micro-blogging site Twitter is flooded with a plethora of complaints regarding the Apex Legends server status. A lot of Apex Legends players are facing server connection and log-in issues in Apex Legends.
Fret not, you are not alone. Even users from various regions are facing the same issues.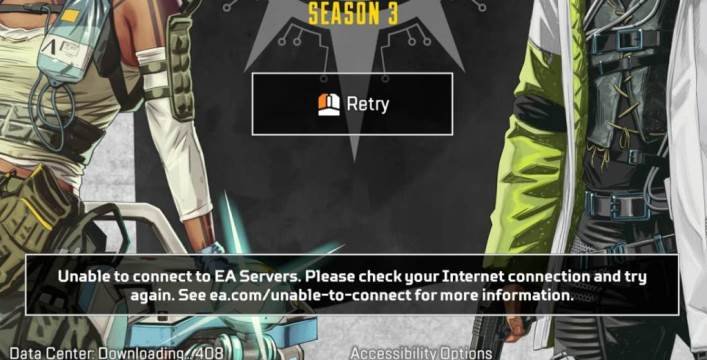 Here are tweets, just in case, if you want to check out the complaints that are being posted on Twitter.
@PlayApex @EAHelp Not connecting ea servers, pls help us

— Emanuel Freitas (@tutimaduti) October 22, 2019
@EAHelp Dear EA-Team, something seems to be wrong with my Apex Legends.
Can not login due to data center problems.
Are you able to help me with this?(PC, Origin Restart & Game Repair did not fix it) pic.twitter.com/zA9nZiKtgO

— flrn (@flrnRL) October 22, 2019
@PlayApex Can't connect to the game, restart PS4 or the game doesn't help. pic.twitter.com/1L9Uw3h7vi

— Ganth King (@Ganth0101) October 22, 2019
@PlayApex Are the Servers Down?

— T (@osonegro1942) October 22, 2019
@Respawn @PlayApex
iAM about to just uninstall Apex Legends / Origin…
I cant sync to your cloud, so apparently I cant play on any server? and…. I dont have time to wonder if the cloud is working or not… stop telling me you fixed it, and fix it.

— Scumm (@Scumm3) October 22, 2019
For now, Apex Legends and EA have not commented officially on this issue. Well, we are keeping a close watch on this matter & whenever the issue resolves, we will update this column. If you are facing the same issue, let us know in the comments section below.
---
October 30, 2019
The servers of the game are down again. A lot of people are reporting on Twitter, check out the tweets below :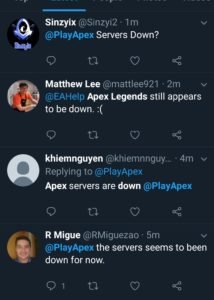 ---
November 2, 2019
Apex legends servers are down again!
Have never experienced this many issues before. Something has to be going on with @PlayApex hopefully they get it resolved soon.

— Punit Patel (@punit352) November 2, 2019
@PlayApex am I the only one having disconnection issues this morning? #ApexLegends

— Dyllbob (@dyllbob4life) November 2, 2019
And i still get code leaf after playing two match. Fix the problem for iran. Tnx!

— Hadi MP (@_HADI_MP) November 2, 2019
---
November 3, 2019
Anyone else having trouble with the CNN signal today? No weather in the area.🤷🏻‍♀️

— ggx2❤️ (@formerAFSGT) November 2, 2019
@PlayApex singapore server got problem? Why keep dc???

— awie (@AhmadAsnawi) November 2, 2019
---
November 4, 2019
Apex legends servers are down again! Check out some of the complaints by netizens:
servers more broken than the charge rifle smfh @playapex

— poji (@pojgaerlan) November 4, 2019
@PlayApex fix yeah damn server problem damn the lag is getting annoying damn

— Nycajm718 (@nycajm718) November 3, 2019