Among Us is a popular strategy game that rose to popularity amidst the global pandemic. This game is based on the childhood games like Werewolf. The game aims to find out the imposters before the crewmates are viciously killed. To make things interesting, Among Us has released the ELMO Role mod.
The ELMO Role Mod
ELMO is a character that is scary to look at and has unique ways of killing people. He is a red hairy monster who can crush people while hugging them. He can also generate clones of himself. He can also tickle people to death.
The game escalates when you are near ELMO. It will jumpscare you by suddenly flashing a scary face of ELMO and then turning the screen black. When the lights turn on, you will be surrounded by many clones of ELMO. It is best to run!
Sometimes, while you are roaming the map, ELMO will rise from the ground through a small pool of lava. Players will be scared by the clones. However, you can identify the real ELMO when the tickle bar starts going down. That means ELMO is near you and is tickling you to death.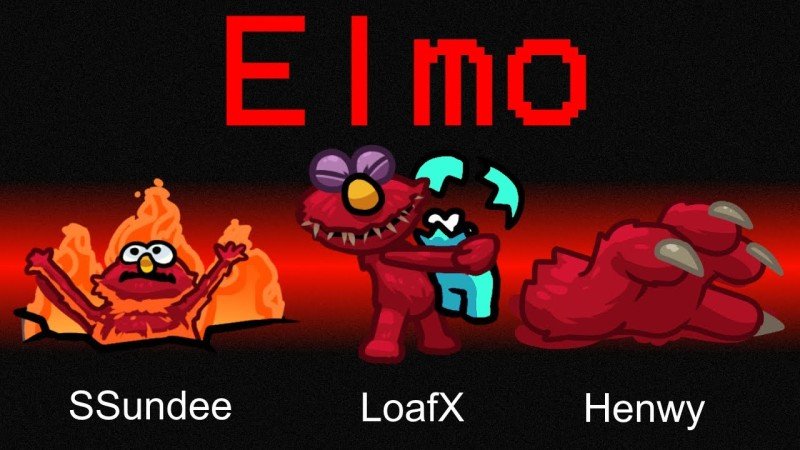 The chills will run down your spine when you see the dead body of your crewmate. The limbs will be torn and thrashed all over the place. The message – "He's Here" will be etched on the path by using blood. I hope that is enough to scare you now, right?
If you are "lucky" enough, you can see the murder of a crewmate. A giant red claw smashes the body and then pulls it back into the darkness. It is quite right to say that the game just turned interesting.
Once you are the imposter, you will turn into ELMO. The options that you get are – Fire Jump, Swarm, Giant, Hug, and transform. Use these wisely to scare your crewmates and kill them. So, what are you waiting for? Get the ELMO mod now.