If you are trying to use Airbnb website/App and it is not working for you. Fret not, you are not alone as many Airbnb users are also facing the same issue. Some users are getting an error code 500 while sign in to their account.
Many Airbnb users have taken the route of forums to express their concerns regarding the ongoing outage & issues. Have a look at some of the complaints down below.
@nrldn1992 @Airbnb_uk @AirbnbHelp @Airbnb I've been waiting for a payment since mid December – do you have problems with payment??

2020-01-09 16:46:06
@relu94 @5thlinecentre @Lefty_Jew @LaurenPelley because there definitely haven't been problems with the ways AirBnB privatizes and corporatizes spaces, right?

2020-01-09 16:10:57
@luxury__travel @BalHarbourhotel @AirbnbHelp …but you probably won't be able to help with the issues surrounding my Airbnb listing ?

2020-01-09 08:21:24
@SurveillanceC12 This is truly scary. Matching owners and customers based on employment and education histories, lower scores for being "involved" in pornography, creating so-called psychological profiles of users… Count me done with @Airbnb #SurveillanceCapitalism

2020-01-09 05:45:09
@mejesseandari power outage in an airbnb in a foreign country❤️
An outage tracking website, Down Detector also confirms that Airbnb is indeed going through some glitch & outage in several locations. Have a look at the outage map down below.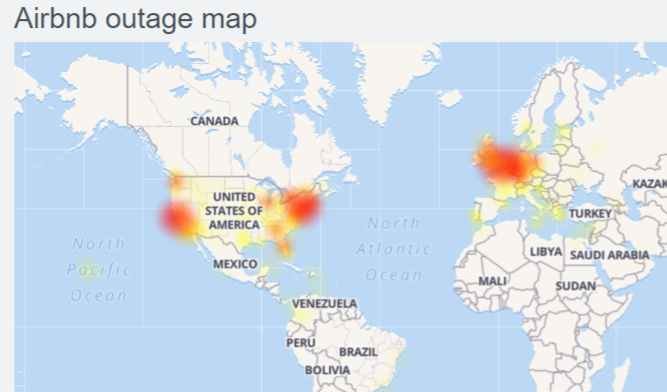 There is no official statement from Airbnb officials regarding the ongoing outage & issues.
Rest assured, we are keeping a close tab on all the developments regarding this issue. Whenever any update or fix arrives for the same, we will update the column.
---
UPDATE: 1
Airbnb officials are aware of the issues with their website and are working to fix them. Check out the official tweet below:
Thank you for reporting the issues with the site. Our team is aware and working toward a fix. Thanks for bearing with us in the meantime!

— Airbnb Help (@AirbnbHelp) January 9, 2020